Water parks in Stockholm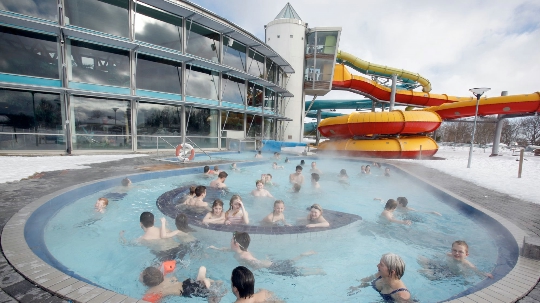 Resting in Stockholm, entertainment recreation is recommended to include the local water park - it is equally good for both children and youth hanging out companies.
Waterpark in Stockholm
Waterpark "Sydpoolen" pleases visitors:
water slides (large - 60 m; small - 20 m);
3 swimming pools (one of the pools every 30minutes "include" waves of the sea, and therefore, in such moments, you can take the board to ride on the waves) + private pool for parents and young children;
several jacuzzi, vodoemchik, diving board;
attractions for children;
spa-area with sauna;
solarium;
a separate area for adults, where you can hire the services of a masseur or a rest after swimming on a sun lounger;
shop where you can get a bathing suit, goggles, shampoo and other necessary supplies;
institutions of power (do not forget to taste the famous Swedish lyaks).
Approximate cost of entrance tickets - 27 Euros, and children up to 7 years applied a 50% discount (up to 3 years - free of charge).
Resting in Stockholm you can visit the mini-water park"Hysbybadet" - it is equipped with a swimming pool (there are 6 tracks and 3-meter-high tower), in which water is maintained at + 29˚ C, 2 slides, a children's pool, artificial river, a sauna, jacuzzi, gym. Tickets - 90 SEK / adults CZK 40 / children and young people (4-19 years) 130 CZK / 1 + 2, 220 CZK / 2 + 2.
Water Activities in Stockholm
You love to splash in the pool? You should stay in a hotel with a swimming pool - in the "Grand Hotel Stockholm", "Clarion Hotel Sign" or "First Hotel Reisen".
Guests of the city should look into the aquarium (90CZK / adult, 70 CZK / pensioners 50 CZK / 6-15 year-olds, 25 CZK / 3-5 year-olds): first, they will pass the rainforest (the river flows through it and its inhabitants), where in 10 minutes you can see sunrise, sunset and storm; and then met with the fishes and the inhabitants of the southern seas Swedish waters.
Resting in Stockholm in the summer, guests of the city it is recommended to go to the island of Langholmen - a place for swimming, sunbathing, sculpting figures out of the sand.
I am interested in a beach holiday travelerscan go on Fredhallsbadet beaches (rocky beach, youth leisure, jumping into the water with boulders), Brunnsviksbadet (ecological holiday, jumping into the water from rocks, picnic near the water on lawns), Reimersholme (youth leisure, fun, scuba diving) , Smedsuddsbadet (due to the sandy slope into the water is popular with families with children, you can have a picnic on the green lawn, spreading a blanket on it).
And fans of boat trips can be advised to go for a walk along the historic canals of Stockholm - it will cost them 170 SEK.
Photo