Trains Sweden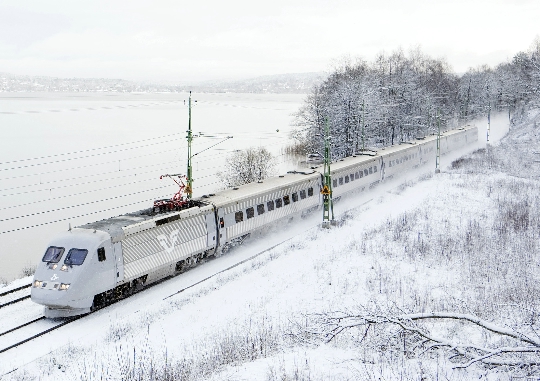 Sweden Posts railway systemIt is one of the most highly in the world. Transportation maximally adapted to the needs of passengers that allows you to comfortably travel in different directions. Sweden Trains move in six lines: South, West, and others through Norrland.
What train are used
Clients are offered tickets for seats in the carriages 12 and class. Sleeping cars are provided on long-distance trains. On the main lines of the country commonly used high-speed train X 2000, capable of reaching a speed of about 200 km / h. Passengers are guaranteed comfortable. The cars have, individual audio sockets, toilets. Internet access can be purchased at the time of purchase w / e ticket. In the first class passengers are offered hot meals.
The rolling stock of the railway of the country includesthe following passenger trains: regional X12, the X40 two-storey regional, night. Long-distance trains are equipped with a compartment and seating. By purchasing a ticket, the passenger can choose a male or female coupe.
The most popular Swedish routes: Stockholm - Gothenburg, Malmö - Copenhagen, Stockholm - Uppsala. Trains allow you to navigate throughout the state comfortably.
Railway tickets
Get information on train schedules in Swedenwww.sj.se possible on the site, which is the official resource of the state railways of the country roads. Railways are managed by the major transport companies:. SJ, Veoli and Inlandsbanan, DSB First Schedule and other trains are on resplus.se site.
The country stands out internal railway,which stretches 1,300 km and connects Kristinenhamn (administrative center) and Yellivare. This section of the railway belongs to a private person. Transportation for her place in the warmer months. More details are available at www.inlandsbanan.se. Passengers are given a railway map of European Rail passes, allowing to receive various discounts on travel. Learn about this card can be www.eurail.com on site.
Tickets for the train in Sweden is expensive. For example, to get from Stockholm to Gothenburg can be 3 hours 15 minutes, paying for the ticket 650 CZK. high standard of living in the country, so the cost of travel by rail is also high. To save on tickets, it is recommended to purchase them in advance on the Internet. In some cases, the ticket does not include seat reservation. To the passenger went to a certain place, you should pay.
Photo