Airport in Basel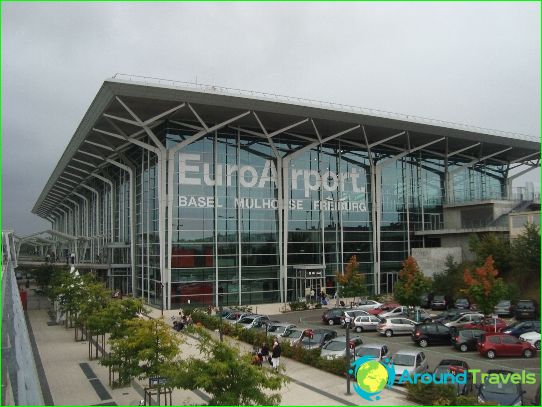 Airport Basel-Mulhouse-Freiburg - this is the onlyairport in the world, which is controlled by two countries - France and Switzerland. airport name is often shortened to Basel-Mulhouse, also called EuroAirport. The airport is located on the territory of France in Saint-Louis and is located near the border with Switzerland, which is why the country also manages the airport.
The magnitude in France took seventh place, and in Switzerland - the third. Every year served more than 5 million people, and more than 100 thousand tons of cargo.
Basel Airport has 3 runwaysbars, two with artificial turf, a length of 3900 and 1820 meters. The third runway with a grassy surface, has a length of 630 meters. Also, the airport has two passenger terminals.
History
The history of the airport of Basel dates back to the 20'sof the last century. Then the Swiss airport located in Birsfelden. But by the 30s it became clear that the airport can not provide quality work. Since the expansion of the old airport was impossible, Switzerland wondering about the construction of a new airport.
Thus began the negotiations with France on the construction of the airport on their land, which will be managed by the two countries. These negotiations were interrupted by World War II.
After the war, restored the negotiations and in May 1946, the new airport is put into operation. In 1949 an agreement was signed, which takes into account the different nuances of the airport management.
In subsequent years, the Basel-Mulhouse airport again and again reconstructed.
services
Basel Airport offers all the necessary services on the road. On the territory of the terminal cafés and restaurants, ATMs, banks, shops, post office, currency exchange, etc.
For passengers with children have a mother and child room, as well as equipped with a special play area for children.
If necessary, passengers can ask for help in a clinic or buy the necessary medicines in a pharmacy.
Also on the territory of the terminal has a separate VIP-hall designed for business class passengers.
Getting there
From the airport to nearby cities such as Basel, Saint-Louis, Mulhouse, Belfort et al. Can be reached in several ways. The most popular method - a bus.
In Switzerland, Germany and France buses that link the airport with the nearest cities.
In addition to the city you can always get a taxi.
It is said that in the plans of the construction of the tram line, it should be completed by 2016.
Photos Airport in Basel