Zurich Airport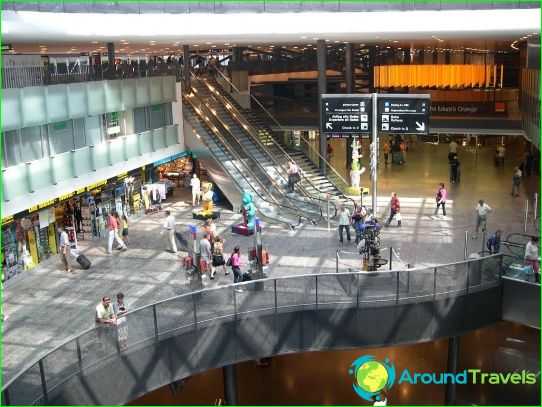 Zurich Airport (Kloten Airport) - is one of thethe largest and busiest airports in Europe. This is not surprising, since Swiss residents have long been known for their activity in the travel. Swiss national airline Swiss Int uses this airport as a major transit hub. For the organization of movement in the area of ​​the airport meets the company Skyguide.
In addition, the airport in Zurich was awarded the prize as the best airport in Europe, and the airline Swiss Int has been named the leading in Europe.
services
Zurich Airport has everything to ensurepassengers waiting for their flight comfortable. Waiting rooms are divided into an ordinary room and business-class for the most demanding passengers. Besides waiting for a snack or a square meal available in cafes and restaurants. The airport is located post office, bank offices, also provided an opportunity to exchange.
If necessary, passengers can contact the medical center or a pharmacy.
Entertainment
As entertainment at Zurich airport readyoffer free internet access, a specially dedicated space for a laptop. In addition, you can buy a newspaper or magazine, and watch TV. Of course, children are not left without attention for their airport offers special game rooms.
To the city
Zurich Airport offers arrived several options of movement:
Taxi - the most expensive way to travel. A taxi rank is located near the airport, find it is not difficult enough to pay attention to signs. Approximate cost - 50 francs;
Bus - from the airport go to Type 2 buses. One of them will take the passenger to the desired his hotel or hotel, you just tell the driver name. The second type of bus will take passengers to the Oerlikon - station in the north of Zurich. The bus ride will cost about 15 francs;
The train - the fastest and most inexpensive option. The station is located directly below the airport, and get to it will not be difficult, as there are pointers. Bought for 6 francs for adults and 4 francs for children under 16 years of ticket allows you to travel by train within an hour. By train a maximum of 10 minutes to reach the city center;
Tram №10 - it moves from the airport to the North Station. Its advantage is perhaps the fact that you can cross the entire city without stopping, and direct;
Car Hire - Airport allows you to rent a car to get around the city.
Photos Zurich Airport