The best restaurants in Zurich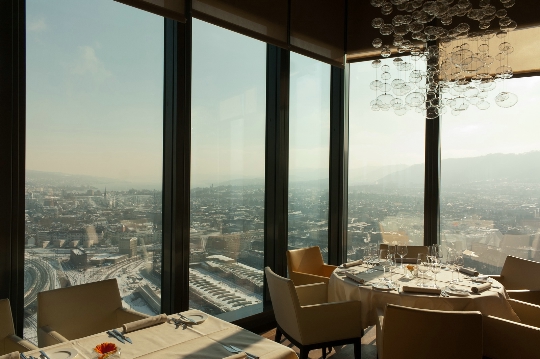 Despite the fact that this city is consideredfinancial, industrial and commercial center of the country, tourists are a great many. They are attracted by the many museums, antique shops, galleries and, of course, the best restaurants in Zurich. By the way, in the city of about 2 thousand. Restaurants, but which ones are the best?
Traditional cuisine
First of all, this restaurant «Kronenholle» -this is one of the most famous places in Zurich. Excellent food (I recommend to try the signature dish here - chopped veal), and the interior is decorated with paintings by famous artists. Best Swiss cheese served in the city «Walliserkeller», but «Zeughauskeller» - restaurant working since the XV century. In addition to a variety of meat dishes in «Zeughauskeller» serves great beer. But for the local sausages, even go to the «Vorderer Sternen Grill».
Asian exotica
Japanese, Chinese and other Asian restaurants in Zurich also has: «Asian Place»; «Chop Chop»; «Tiffins»; «Ginger».
American kitchen
What city in the world without the cost of traditionalburgers and fries? These and other American dishes delight «Hooters» and «ZIC ZAK Letzi». Unusual Mexican cuisine can be enjoyed in Zurich «Mexicano» and «Desperado».
Zurich Bars
The first in this list is «Widder Bar» -legendary place, which protrude from the base of the best jazz musicians in the world. There is also collected a unique library. In general, you can not just have dinner and a drink at the bar, but also to visit the concert and see this truly rare book collection. "42" - this is an American pub and suitable sports fans. For those who are not afraid of heights, there is a great bar in the tower observatory. At this point, everything is fine - a romantic setting, excellent views of Zurich and its unusual name - «Jules Verne Panorambar».
Cafeterias
«Sprungli» - this is a small cafe in the city centerfamous for its desserts and, of course, Swiss chocolate. He speaks to them of the same name well-known company for the production of most of these desserts, so there is an excellent selection of the most recent and high-quality goodies. The only negative - the queue and little places. But the wait is worth it.
Switzerland is not only beautiful, but also veryinteresting and "delicious" country, so that gourmets in Zurich has something to do. The main thing is moving from one institution to another, do not forget about the inedible attractions of the city.
Photo