Areas of Zurich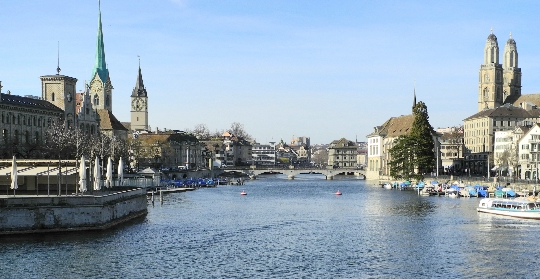 Zurich areas are visible on the map of the city - where theypresented 12 major areas, which are divided into smaller ones. Areas of Zurich Oerlikon are, Shvamendingen, Altstadt, Vidicon, Ausserzil, Obershtrass, Hottingen, Risby and others.
Description of the main areas and attractions
Altstadt: gone for a walk through the Old Town, it is necessary to sit at a cafe on the waterfront of Limmat, a ride on the funicular Polybahn (it will take you to the observation deck, where you can make beautiful photos-pictures), to inspect the Town Hall (it is - a sample of the baroque style, is present in the interiors decor in the form of moldings, ornamentation on the ceiling, crystal chandeliers, and in front of the town Hall installed the city's first street lamp), St. Peter's Cathedral (guests are asked to admire the wooden carvings in the interior, church organ and crystal chandeliers; on the first Saturday of the month you can attend concerts of organ music, and on Wednesday - on free meditation), the house where Lenin lived, when he was in Zurich, Fraumunster cathedral (worth admire the stained glass compositions Chagall in the form of biblical scenes and murals Bodmer and attend concerts of organ and chamber music) and Grossmünster (a sample of Romanesque architecture; here opened Museum of the Reformation, on the last Friday of the month at 22:00 in wanting an opportunity to go on a tour of the church with a guide + carry climb to the tower of the cathedral to admire the night city).
Niederdorf: This area is located in the Old Town and in addition to cafes and restaurants sheltered in its territory the city library (she - 5000000 store items, including manuscripts, maps and printed volumes).
Zurich-West: before the area was famous for the factories and mills, and now in their place, opened shops, clubs and galleries. Close cultural center of the district is Shiffbau - here invites you to attend the jazz concerts, theatrical performances and other activities.
Where to stay tourists
In order to save the tourists recommendedstop in Oerlikon an area in which the advantages of living - the availability of cheap and comfortable hotel, located near the sports stadium and grocery stores at reasonable prices. In addition, it runs a weekly fair "Messe Zurich", if you wish, you can relax in a local park, and to the places of interest of the city can be reached in just 10 minutes by tram.
Still, the best area for accommodationtravelers - Old Town (stay here will be comfortable even for shoppers - they will be next to the Bahnhofstrasse shopping street). From mid-priced hotels stands Hotel Otter, but because of the higher price category - Hotel Kindli. Your budget is unlimited? Please note the hotel "Widder Hotel".
Photos Zurich area