Prices in Zurich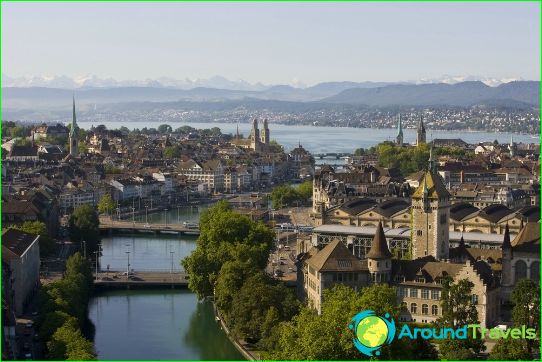 The largest and most populous city in SwitzerlandZurich is considered. He is one of the most beautiful cities in the world. Zurich is situated on the shore of Lake Zurich, where the Limmat river originates. To pay for goods and services in Zurich should the Swiss franc (CHF). You can also use the euro, but the change you get the Franks and disadvantageous exchange rate.
tourist accommodation
Travelers on a budgetopportunities in Zurich live hard. It is a city for business, where the bank is going audience. Therefore, living expenses are high. there are hostels in Zurich, but they are expensive. In general, the cost of living in the city is on a par with Oslo and Stockholm. His peak prices achieved in the summer.
The number in the low-cost hotel is 130-150CHF. Rent for a day room at the 5 * can be for 260-300 francs. Accommodation in a luxury hotel will cost 3,000 francs per day. During the year, the price of hotel rooms may be reduced, but it is difficult to predict in advance of their decline. The dynamics of prices strongly influenced by business activities carried out in the city.
The average expenditure of 100 francsper day per person. In this case, you can expect to stay in a cheap hotel, small budget entertainment and visit the cafe. More comfort in Zurich will cost 150 francs a day per person.
Tours in Zurich
The city has many museums and architecturalattractions. In museums you can see the mixture of modernity and antiquity. Tourists visit the Salvador Dali museum, the Kunsthaus, Rietberg Museum, the Museum of money, and other places.
Everyday life in Zurich is not only the day but also at night. Holidaymakers expect discos, nightclubs, restaurants and bars to suit every taste and budget. Walking tour lasts 2 hours and costs 150 euros. Group tour of Zurich on the bus will cost 32 euros per person. Tourists are offered a guided tour from Zurich to Bern cost from 300 euros. Take a sightseeing trip around the city on the tram for 22 euros.
Food in Zurich
Not very high prices observed in smalleatery city. There you can order hot dogs, sandwiches, scones and other fast food. This meal will cost about 8 francs per person. Dinner in a good restaurant from 75 francs. Dine in an inexpensive cafe costs about 30 francs. Bottle of wine in the Zurich store is 5-10 francs.
Photo