Shops and boutiques in Zurich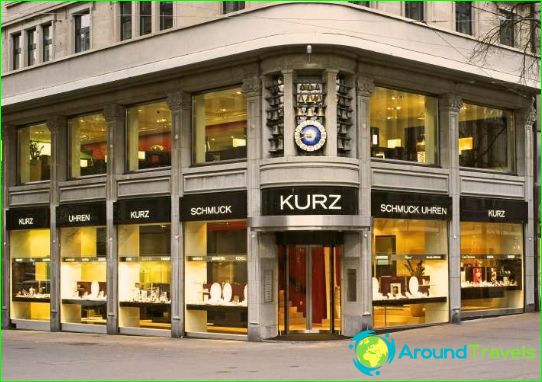 Zurich Research of 2011-2012 foundthe most expensive city in the world and second in quality of life. Here, all purchases will cost dearly. But often no more expensive than in Moscow. And the quality of service and politeness of sellers going wild. And a Swiss watch and jewelry houses are known for sure is cheaper. Tax-free will reduce the amount of costs a little more. Therefore shopping trip will provide its pleasant moments.
Popular outlets
The Main Street of the city - the Bahnhofstrasse. It connects the city train station and Lake Zurich. This is the most expensive in the world 1.5 km. The audience walks here admires attractions. Each widely known brand goods is honored to keep on Bahnhofstrasse, the boutique. So, any fantasy will find here their implementation. Prices are lower in the station area, there are many mass-market brands. Under the station at underground level is a large supermarket. The most expensive boutiques are located close to the lake.
Confectionery shop and Sprungli on the most expensiveWorld Street for nearly two centuries delight visitors Swiss chocolate delights: chocolates, pralines, truffles, lyuksenrugerlyami, better known as the marukany.
Shopping center Globus solve the problem of time andwill quickly see the range of Swiss goods. In addition to clothing, footwear, interior and other standard set, you can find a bio-organic products of local farmers, virtually hand-made yogurt, a lot of cheese varieties. Fondyushnitsa bought in Switzerland are sure to impress friends - will be a great occasion to get together, enjoy in the close company of the famous cheese dishes, and remember the trip.
On the streets of the Old Town, hidden boutiquesluxury brands. The area is bordered by the historic center of Bahnhofstrasse and the Limmat River. The interweaving of its alleys is easy to get lost. Save The map with marked shops such offer in the hotels or easily find on the web.
On the opposite bank of the river are also manyboutiques. They are more modest than in the Bahnhofstrasse. Shops are located along the waterfront, many have two outputs - the side of the embankment of the river and on the Limmatquai Niderdorfshtrasse. Here, especially a lot of shoe stores, as well as a wide selection of youth clothing. Further inland quarter sheltered artisan shops with works of art.
Photos Zurich stores