What to do in Zurich?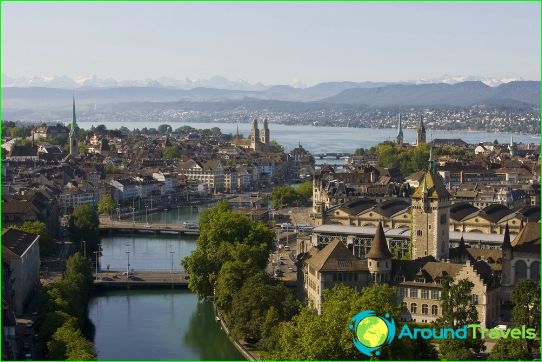 In Zurich, you can not only taste the famous Swiss cheese and chocolate, but also to go for shopping, take a walk through the Old Town, take a ride on a boat on Lake Zurich.
What to do in Zurich?
To visit the Cathedral Grossmunster (it is located in the center of Zurich and has 2 twin towers);
Go to the Swiss National Museum (located in the city center, in a huge castle and occupies 2 floors there);
Ride the funicular Polybahn;
Go to the Zurich Opera House;
To visit the Beyer watch museum.
Things to do in Zurich?
Getting to Know Zurich should start with a walk onNiederdorf historic district of the city - here you will meet the narrow alleys, lovely houses in the Gothic style, bakeries, pastry shops, antique stores. In the evening you can see performances of acrobats, dancers and musicians.
To enjoy the view of the Alps, the lake, the cathedralGrossmünster, should go up to the observation deck, which is located on top of the mountain (you can reach it by climbing up from St. Peter's Church).
For shopping it is advisable to go to the shopping mall "Arches Viaduct", which brings together shops, galleries, studios and a huge food market.
Of particular note is the area of ​​the streetBahnhofstrasse - the day is to plan so that you can visit the shops located here, restaurants and entertainment venues. In the local stores you can get not only the clothes and souvenirs, but the original things, including antiques.
The children should go to the Zurich zoo, where animals live in special enclosures. The zoo and live domestic animals that are allowed to touch and feed.
At 15 km from Zurich, on the lake Tyurler,Toy Museum is located, but it's worth it to go there with the kids for the day. This amusement park has viewing platforms, walkways, models of railways, the largest collection of toys, rides. Couples with children should visit the Alpamare water park - children here can enjoy water rides and have fun at the playground, while adults - go to the wellness area.
Be sure to take a tour ofLake Zurich. On its shores are recreation parks, equipped with a public bath, natural sandy beaches. This lake - a paradise for lovers of a quiet holiday, divers, fans of winds and sails (here you can rent a high-speed boat).
Noisy companies enjoy in Acapulco bar -enjoy a drink, you can go down to the football club Foxy, to play table football. And if you want to spend the evening with a drive, then go to a techno club Oxa Dance Hall, which does not close its doors until the morning.
Holidays in Zurich will allow you to see the unique architectural monuments, enjoy a delicious meal, spend time actively and have fun.
Photos where to go in Zurich