Tours in Zurich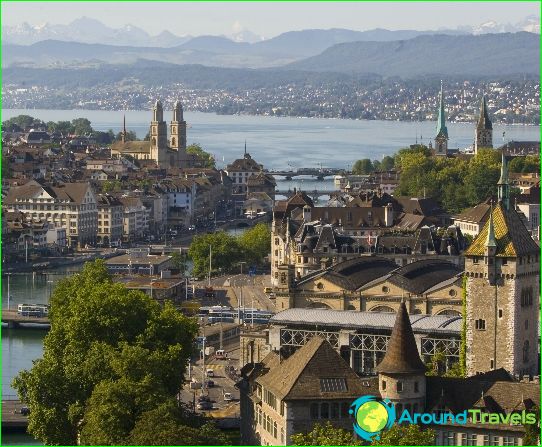 The capital of German-speaking part of Switzerland, the city ofZurich is known worldwide as a major financial center. The phrase "reliable as a Swiss bank" was born here, and for several centuries, local bankers faithfully watch over the traditions and keep the brand.
An ordinary traveler like tours in Zurich onseveral other reasons. The city has a lot of nice looking architectural attractions, its surroundings are the perfect backdrop for photo shoots, and local chocolates, cheeses and other delicacies are able to break the ice, even in the heart of a devotee steaks with blood.
History and geography
The city is considered the largest in Switzerland and liesin a valley on the shores of the lake. By Zurich records include recognition of its most expensive city on the planet and a silver prize in the international competition for quality of life.
Zurich was founded in the I century BCBut as the city is first mentioned in the tenth century. In the Middle Ages was an imperial city and was a member of the Swiss Union, and financial reputation gained in the middle of the XIX century.
Three dozen kilometers north of Zurich extends the Alps, and its undoubted decoration is a mirror of Lake Zurich.
Briefly about the importance
Direct flight from the capital of Russia in the internationalZurich Airport takes just over three and a half hours. Participants of tours in Zurich can reach the city center by express train, overcoming several kilometers in just 10 minutes.
Save on travel around the city will be able toGuests who purchase a ticket Zurich Card. The document gives the right on free access to the absolute majority of the local museums, and a number of discounts in restaurants and shops in the city.
The mild climate and the mountains, covering the city fromwinds guarantee the participants tours in Zurich weather pleasant in any season. In winter the temperature can drop slightly below zero, but the sunny days prevail absolutely over cloudy. In summer, the air is heated to 25, and the water in Lake Zurich makes it comfortable to swim.
Marc Chagall and his masterpieces
Benedictine Abbey Fraumünster wasIt founded in the IX century. The monastery received broad powers, and even minted its own coins. Today the building of the former abbey is famous for the participants tours in Zurich Marc Chagall stained glass windows that adorn the windows of the cathedral. While walking around the city to visit the Temple of St. Peter's with the largest clock in the Old World and the Grossmunster, towers which can be called the hallmark of Zurich.
Photo