Zoo Zurich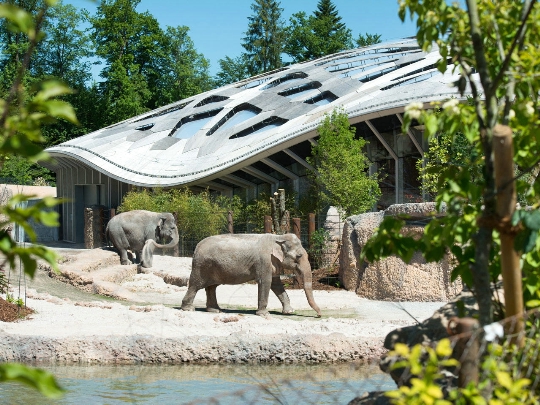 Zoological Garden in Zurich in Switzerland was openedin 1929 in the quarter Fluntern. Today is home to more than 2,200 residents belonging to three hundred species. The modern zoo in Zurich - a spacious open-air cages, the opportunity to observe the animals in their natural habitat, dozens of popular and educational programs, interesting and a great opportunity to show informative and fun to spend a weekend outdoors with family.
Zurich Zoological Garden
Almost 20 years since the mid 50-ies of the last centuryDirector Park was Heini Hediger. During his leadership of the name of the Zurich Zoo was a lot to say and professional zoologists, and simple lovers of nature. For example, several thousand volumes of valuable and important literature park library can help you prepare for exams or writing a doctoral dissertation.
Pride and Achievements
Zurich Zoo boasts many lodgers, butMost users know the local penguins, suiting daily hits for the guests. Kids, come into the world, become the object of attention not only scientists, but also to visitors. Calendar of birthdays and visit animals - zoo on site.
How to get there?
Location of the zoo - Zurichbergstrasse 221, 8044 Zurich You, Switzerland.
To reach the park in several ways:
From Bahnhofstrasse tram route 6 to the stop Zoo.
From Bellevue tram route 5 to the Church Fluntern, where you should transfer to the tram 6 to the stop Zoo.
From w / d station Stettbach tram route 12 or route 751 bus in the direction of Fluntern Church to the stop Zoo.
Helpful information
Zurich Zoo is open 365 days a year. Hours of operation are different in winter and summer:
From November 1 to February 28, the park is open from 09.00 to 17.00.
From March 1 to October 31, the zoo can be visited from 09.00 to 18.00.
On the eve of Christmas on December 24 in Zurich Zoo is open from 09.00 to 16.00.
Price of tickets:
Vzrosly full ticket - 26 CHF, discount for the disabled - 13 CHF.
Bilet for children from 6 to 15 years old - 13 CHF, and for young people from 16 to 24 years old - 19 CHF;
Semeyny ticket for two adults and their children from 6 to 15 children will cost 71 CHF.
Malyshi to 6 years old can visit the park free of charge.
Special benefits are available to visitors in groups.
The right to have discounts confirm the identity card with photo.
Services and contacts
Refreshment after a walk in the fresh airIt can be in one of the restaurants in the park. It also opened a shop and souvenir shops where you can buy gifts for friends or commemorative trinkets.
Parking at the park fee. From Monday to Saturday, the price of an hour of parking - 0.50 CHF, Sunday - 2 CHF. The car can be left on the 6 and 8 hours respectively.
The official website of the zoo, where you can learn the latest news, - www.zoo.ch.
Phone +41 44 254 25 00.
Photos of Zurich Zoo