Airport in Geneva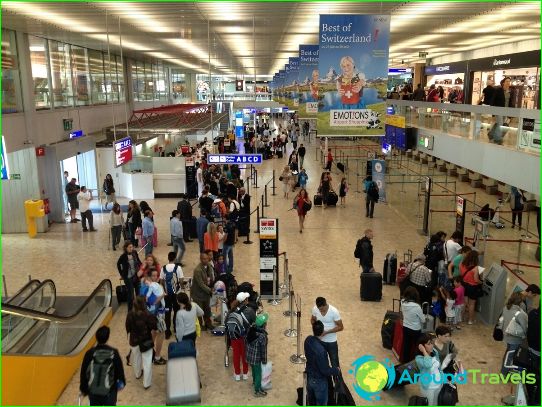 Commercial airport in Geneva is located four kilometers north-west from the center of the capital of the French-speaking canton, in the vicinity of the village of Cointrin.
The second largest (after the "Le Bourget" airportParis) airport serves more than fifty airlines in the world, including - twenty European. From day to send more than one hundred and twenty flights in different regions of the planet.
Cointrin is located on the border of two states -Switzerland and France. Hence, there was an agreement in 1968 on the establishment of the two sectors, which allowed residents of Switzerland and France freely pass customs control. In 2004, Switzerland joined the Schengen agreement, so today it is no longer relevant.
In addition, the airport is practically in the city, which allows arriving in Geneva tourists, even during the short-term direct, visit the city's attractions.
services
Airport in Geneva - one of the most comfortablein Europe. There are all conditions for a relaxing and enjoyable time spending. Nearby are several hotels, delivering them to provide free buses. The most popular is the Crowne Plaza. The room rate is about $ 30 per day per person.
However, most travelers preferstay in the French countryside near Fernier-voltaire. Accommodation prices are slightly lower, but the bulk of the entertainment runs around the clock, while in Switzerland they close already at 19.00.
It arriving at the airport represented a lot of cafes, restaurants and boutiques. Guests are serve at the highest level.
The work of all debugged perfect services. With 12.00 am to 04.00 am of the terminal building is closed for maintenance work. However, passengers do not have to leave the premises. They can comfortably spend time in waiting rooms with free internet.
Road interchange
To get from the airport to the center of Geneva and other parts of Switzerland and France is very simple:
train - fast, reliable and easy waytravels. Trains run regularly every 15 to 20 minutes travel time - six, seven minutes. Outputs from the airport to the station are in the areas of registration and arrival flights. From the arrival of the aircraft area to the station just five minutes walk away.
By car. The airport operates car rental station. The distance is 5 km to the center of Geneva can be overcome in 15 minutes.
bus number 10, which run every ten minutes from the train station station, just over 15 minutes on the way.
taxi - the price of the fare will be approximately 3 - $ 4, depending on the number of passengers and destination. But the comfort and speed of delivery will be provided.
Photos Geneva Airport