Christmas in Geneva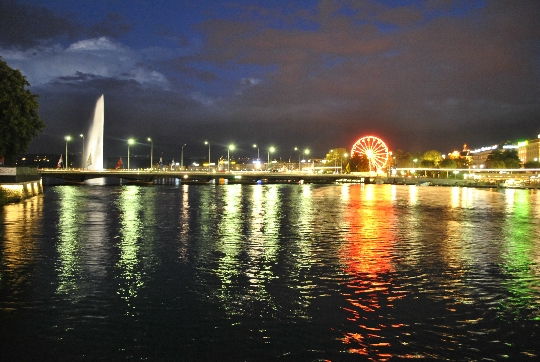 Resting on Christmas Day in Geneva, travelers fall into a winter wonderland with Christmas markets and streets, drowning in the holiday illumination.
Features of the celebration of Christmas in Geneva
During the 4 weeks before Christmas Swiss Familyengaged in decoration of the Christmas tree with the help of bells, toys and bows. The days leading up to the holiday, love and children count: they give special calendars with little windows, behind which hide small gifts. But adults are lit each week to 1 candle on Advent wreath.
As for the festive meal, the hostessput on the table, puff pastry with cheese and meat, a variety of pies, donuts Ringle, homemade cookies, baked on the family recipe. And travelers who want to spend Christmas Eve in an elegant setting and enjoy local food, should pay attention to the restaurant "Restaurant Les Armures".
Entertainment and celebrations in Geneva
December 12-13, Geneva offers noteAdvent event - visit the festival of L'Escalade: festival usually takes place in the New Square. Here goes motorcade with horsemen, soldiers, arquebusiers and other participants, dressed in costumes of the 17th century, all of this is accompanied by military marches played by drummers and flutists and indicative fought with muskets and pikes. And then be sure to get the main souvenir - a chocolate copy of the boiler Madame Royer (in 1602 she poured the boiler with hot onion soup on the enemy's head, which helped save the city from capture).
On winter holidays in Geneva festival"Le Festival Arbres & Lumieres" - you will have the chance to enjoy Geneva, turning into this time in the city of light: you can see and photograph the beautifully decorated trees and the installation on the theme of rituals associated with Christmas.
In mid-December, should attend thesporting event in Geneva - "Christmas Swimming Cup" (Christmas Cup swimming, the venue - Lake Geneva): here everyone can watch the competition as participants overcome the distance of 125 m in the icy water.
The holidays should go for freerink on the Place du Rhone (do not forget to bring your skates) or a cruise on Lake Geneva (visitors can combine a cruise with a tasting of local food and wine).
Christmas Markets in Geneva
In the 20 days of November in Geneva unfolds holiday trade, where visitors inhale the aromas of cinnamon, candles, pine needles and baking.
Geneva Christmas market can be found on the square Fuster - sent here for the purchase of Christmas gifts and decorations, cheeses sold in a chalet is located here.
And you can go to a Christmas if desiredMarket Montreux Noel in Montreux - strolling along its mall, you can get handmade crafts and colorful trinkets. And yet there are open workshops for children.
Photo