Shops and boutiques in Geneva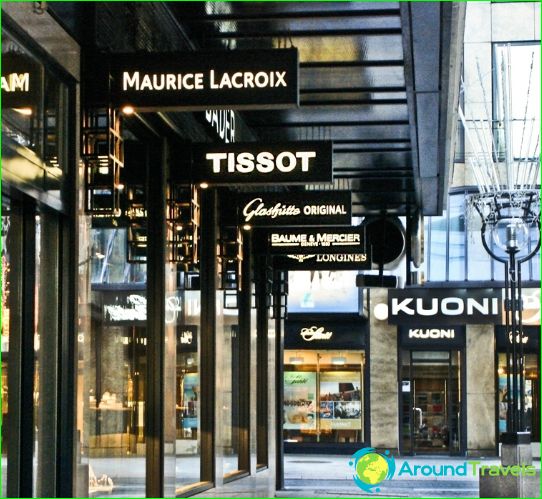 Geneva is associated with headquartersinternational organizations, reliable banks and CERN Hadron Collider, modern medicine, and more Swiss watches. Later followed by shops, located compactly on the quays of Lake Geneva.
Politicians, businessmen and scholars come here forconferences, exhibitions and business meetings. For shopping they usually do not have much time, and maintenance requirements and the very highest goods. Therefore Geneva shops selected for their collections of high-quality and elegant products to match their respectable visitors.
In recent years, the number of buyers in the cityincreased, and therefore the increase in size stores. This applies, for example, Fendi, Boss, Breguet. A Louis Vuitton built himself a new multi-storey building. There were boutiques and democratic brands - Marks & Spencer, Zara, in addition to the previously existing Promod and H & M.
Popular outlets
Street rue du Marche, and rue du Rhone are not differentcrowded, as the prices in their luxury boutiques match offered collections. Boutiques first street trade mainly clothing, and the other is filled with a large store of watches and jewelry - Cartier, Les Ambassadeurs, Bvlgari. It is much more popular than other shopping street - Confederation. These three trade arteries are located on the shores of Lake Geneva and flow smoothly into one another. Walking on them is not tiring and a lot of aesthetic delight.
Stores and Drake Store Drake Store Outletlocated on rue des Alpes and are located next to each other. The first relates to a multi-brand store offering items for the luxury brands of the latest season. And the second - a very unusual shop. It offers the most popular models of previous years of legendary brands Dior, Gucci, Prada, Fendi, Missoni, YSL, etc. At discount prices. I agree that this is different from the range of most outlets that sell unsold items.
Many discoveries are fraught with small shopssigns "soldes / vendu". This is a commission store or pawn shops, not to be confused with their second-hand. Things are often new and luxurious, and reasonable prices. Especially a lot of shops in the streets of Mont Blanc and Cornavin.
The fact that Switzerland is famous for its clockforget in Geneva impossible. Advertisement hours pursues guests everywhere. Swiss watch with time only getting more expensive, so it is better to buy them new branded stores. Les Ambassadeurs - known chain stores watches and jewelry. In Geneva, the store is located on rue du Rhone. Watch only luxury brands are presented in its windows. Experienced consultants will help you choose the model, no matter how capricious client has not appeared. On the same street there are monobrand Jaeger-leCoultre. Another -Bucherer network - in the shop on rue Du Mont-Blanc, along with doroguschy hours and offers more or less available.
Photos of Geneva stores