The best resorts in Switzerland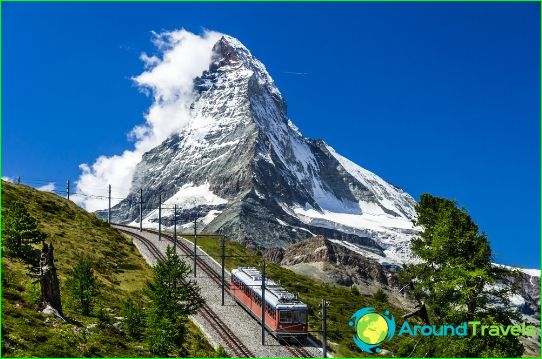 Choosing among the places on the globe where to spendyour vacation, stop look at the Swiss. Rest in this country will surprise you in any of the seasons. Winter and spring - is, of course, the best resorts in Switzerland, specializing in ski vacation, and summer and autumn - exciting bike tours, hiking, and a rich excursion program for the cities of the country.
Zermatt
Zermatt, surrounded by the three highest peaks of the wholeEurope, situated at an altitude of 1620 meters above sea level. Hallmark of this ski resort is the peak of the Matterhorn. The unusual appearance of the mountain (it looks like a slightly curved horn) has long been a symbol for the world of beauty and grandeur of the mountains.
Due to the fact that mountaineering and skiingThey have become very popular sports, once a provincial village into a luxury ski resort. But it's all in the afternoon and in the evening before you presents an entirely different Zermatt. Noisy disco will not let you get bored, and delicious cuisine will long be remembered for its flavors.
Verbier
This resort is famous for its perfectly equipped ski slopes. Perhaps that is why Verbier - a popular place where many celebrities like to relax.
Located between the famous Matterhorn anddelicious Mont Blanc, Verbier has become a real place of pilgrimage for freeriders. Generous to sunlight resort is located in a very picturesque place: a plateau surrounded by mountain peaks. The capital of the "Four Valleys" as it is also called the town, it is considered a "sport" resort, so enjoys the same success with tourists who prefer to combine skiing and quality holiday.
In the latter Verbier is also very successful. Restaurants Verbier, which is a huge amount, will deliver a real pleasure even the most discerning palate. A late-night bars and discos help pass the evening.
Bad Ragaz
Bad Ragaz - known around the worldspa mountain resort. It is absolutely amazing climatic conditions that are perfectly suitable for both leisure and treatment. Healing spa springs were known in the 11th century, and even then the aristocracy chose this place for their holidays.
Altes Bad Pfafers - most visited medicalCenter Bad Ragaz. Local, moderately warm (+37), saturated fluoride salts, water is used for therapeutic baths. You will definitely be offered a massage, mud therapy course, there are also used methods of treatment practiced Chinese traditional healers.
And, of course, a resort can not do without the excellent shopping and nightlife. All this is presented in Bad Ragaz in large quantities.
Photos Swiss resorts