Bern - Swiss capital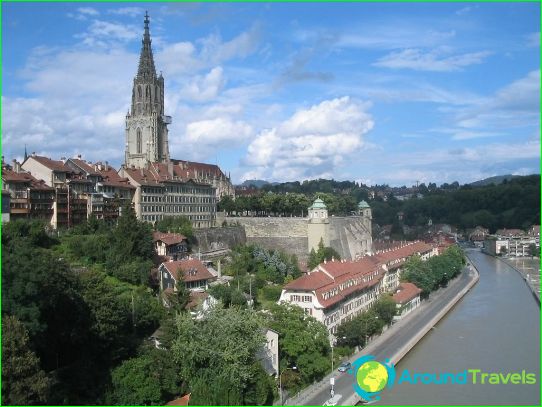 The capital of Switzerland, Bern, located in thethe western part of the country. Surprisingly, having the status of the capital, Bern extremely tiny town, home to just 130,000 people. Nevertheless, the city with its provincial charm and relaxed pace of life - one of the most beautiful capitals of Europe.
City surprisingly interesting, so any problems with the preparation of the tour route will be.
Botanical Garden
Here you can admire the uniquespecimens of flora, among which there are also "citizens" of tropical forests and cold spaces of Central Asia. Each plant is completely recreated necessary for its existence microclimate.
Open Garden was back in 1862. At the moment it occupies an area of ​​two hectares. Here there is a greenhouse with tropical crops, and rock gardens, where alpine plants are feeling well.
Holland Tower
Her story begins with 1256, when it wasbuilt as part of the security zone of the city. But in 1530, it has completely lost its original purpose, and for a long time served as a workshop for blacksmiths and gunsmiths.
This is not the first name of the tower. Until 1896 it was called the smoking tower. The fact that smoking in the city is strictly forbidden. And in order to hide from prying eyes, the military gathered on the top floor of buildings and smoked in his own pleasure.
Belfry Tsaytglokenturm
It is a symbol of the capital and its mainSight. Dating from the XII century, once she has served western city gate and parallel served as a defensive tower. But the external appearance of the structure has undergone many changes. Astronomical Clock belonging Kaspar Brunner, decorated the eastern facade of the tower in the XVI century, it operates to this day. The dial can be seen not only time but also the current day and month. In addition, they show the zodiac sign and phase of the moon. The beginning of each hour notified cry cock, and people can see the fabulous figure.
Rose Garden
Located a huge rose garden at the site of the oldcity ​​cemetery. It grows more than 220 varieties of roses. In addition, the garden is decorated with numerous representatives of irises and rhododendrons. While walking through the garden offers a beautiful view of the capital.
Prison tower
Built structure was in 1640. It is here that once housed the western entrance to the city. The tower is decorated with a beautiful clock, which has a relief inscription "The greatness of Bern." Almost until the end of the 19th century it was used to hold prisoners, and was then given over to the city archives building.
Bern - (Switzerland)
Photo