The currency in Switzerland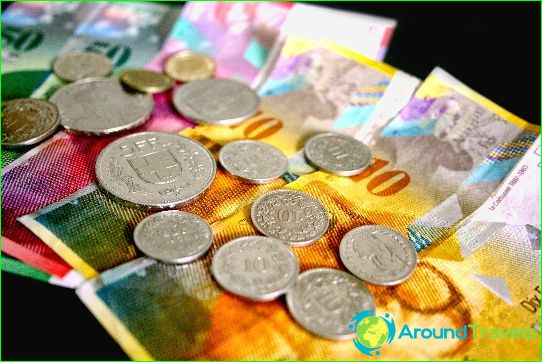 What is the currency in Switzerland is a national? The Swiss national currency - the Swiss Franc. Shorten it represent the first letters of words Confederatia Helvetia francs (CHF). The walk has a banknote of 20, 50, 100, 500 and 1,000 francs. One franc is 100 rappenov (centimes). SNB issues coins in denominations of 5, 10 and 20 rappenov.
What currency to take to Switzerland?
Mostly in circulation in the countrycommon Franko. As for the euro, the currency used much less frequently. Often the euro take telephones, cash distribution to stations tickets, merchandise point of sale in the popular tourist locations (Zurich, Bahnhofstrasse). Even if the euro are accepted, the change is almost always give the Franks. Euro popularity on a par with the Franks only in the capital. US dollars are not accepted as payment anywhere.
Currency Exchange in Switzerland
Exchange Rates for Swiss Francproduced in specialized exchange offices, banks. Bank branches and are available from 8:00 to 16:00, at least - up to 17 or 18 hours. Points to commit Exchange, located at the airport and on the Zurich train station, open from 6:00 to 21:30 seven days a week. At other airports and railway stations - from 8:00 to 22:00, at least - round the clock.
Furthermore, there is a possibility of exchangein virtually every town. This course will not be much different from banking. A good option would be if you exchange your currency for money in Switzerland prior to arrival. This is recommended for two reasons:
The less popular currency in the country, the less profitable it will be a course.
The rate of national currency in Switzerland is overvalued by default.
From ATM you can get money and in francs and in euros.
Import of currency in Switzerland
In accordance with Swiss law, in the countrythere are no restrictions on the import and export of both local currency and foreign money. That is, it is permissible to import into Switzerland any currency in unlimited quantities.
VAT and its return in Switzerland
7.5% - the value added tax. The restaurants and hotels in the sum on the account once included all taxes. If you make a purchase in a store, the value of which exceeds 500 francs, it is possible to reclaim VAT. To do this, you want to take the seller a special "exempt from tax receipt." He issued the passport. When leaving the country on it paid VAT at the airport bank. In some cases, the check is stamped. In this case, it is required to post on their return home. In place of the VAT refund can be obtained upon presentation of a passport.
Photo