Traditional cuisine in Switzerland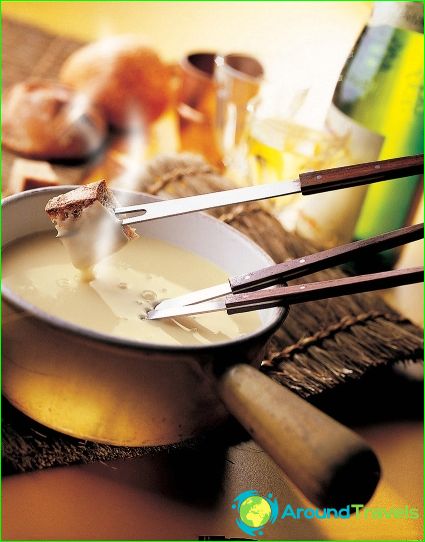 Power Switzerland characterized in thatin almost every town and the valley has its own specialties that can be tasted in local cafes and restaurants (it is worth noting that the prices are quite expensive).
Food in Switzerland
Swiss Diet consists of meat,vegetables, dairy products (butter, cheese, egg, milk). The country is famous for the production of cheese (Vacherin, Emmental, Appenzeller, Raclette) and chocolate. No less popular Swiss products are cereals (wheat or a mixture of cereals, dried fruit and nuts), rosti (fried potatoes, cooked in a special way), pies and cakes with custard.
Dishes of cheese - this is what is required to betry while in Switzerland (Cheese Fritter Malakoff, cheese pies, fried slices of cheese fondue). If you love cheese, and you know a lot about it, you can visit the farmers' markets or festivals taking place every week in all Swiss cities. Here you can wander through the rows of cheese, which exposed huge head cheese. And you can taste different kinds of cheese - like farmers treat their cheese market visitors.
Where to eat in Switzerland? At your service:
Self-service restaurants;
Buffets at stores;
tourism and national restaurants.
Drinks in Switzerland
The most popular drinks are Swiss Rivella (soda based on whey), ovomaltine (chocolate drink), apple juice, wine, beer.
Switzerland is famous for its wines (in the countryIt grows more than 50 grape varieties): white wine lovers can taste Amignehe, Petite Arvine, Rauschling, and red - Cornalin, Petite Robert, Himagne rouge.
Gastronomic tour in Switzerland
Be sure to take a ride on the trainroad, sat in the Pullman car of the nineteenth century, which departs from Montreux to Broc and Gruyere. So, you will be able to visit the dairies, in the castles and the chocolate factory Cailler-Nestle (you can take a dip in the chocolate to make chocolate wrapping, and, of course, enjoy this product).
And you can go on a tour of the SwissRiviera (Montreux-Vevey-Chexbres): you will not only visit the Chillon Castle, but also be able to dine in the panoramic restaurant (it offers a wonderful view of Switzerland, France and Lake Geneva), it tasted the national cuisine.
Going to a gastronomic tour to Switzerland,it is worth considering that the country is divided into 4 regions and many cantons, each of which has its own culture, language and food traditions. So, in the canton of St. Gallen, you can try the perch from Lake Constance and the bread on the basis of maize, in the canton of Vaud - Cheese Fritter Malakoff and in Zurich - veal in Zurich (minced veal, which is languishing in a sauce of cream and mushrooms).
On vacation in the Swiss cities, you can get acquainted with the noble wines, delicious and varied cuisine.
Photos national dishes of Switzerland