Cuisine of Switzerland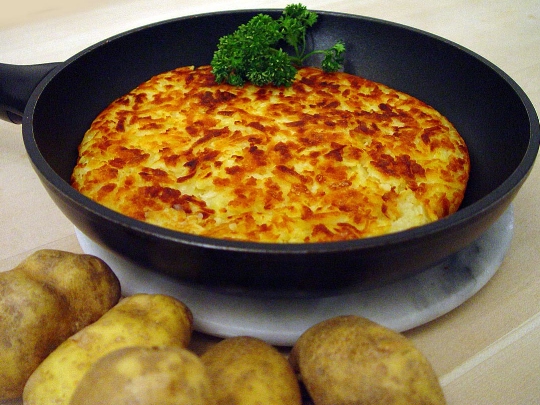 Want to know what is the kitchenSwitzerland? At acquaintance you will realize that it can be traced elements of the German, French and Italian cooking. It is worth noting that the special organization of the best Swiss products awarded certificates: for example, quality mark AOC or IGP marked sausages in Welsh rye bread, dried meat from Graubünden.
National cuisine of Switzerland
Fondue - famous Swiss dish: in melted cheese in white wine are added various spices, which dipped pieces of white bread. But in addition to the classical version, there are chocolate (chocolate is melted, added into it almonds and honey, and then dipped into this mixture biscuits, wafers, fruit or grain), and chicken (stewed chicken with cream sauce) fondue, in the preparation of which use different recipes and techniques.
The local food is often added to the cheese: so, with its use soups, salads, sandwiches, meat and even eggs.
Selection of side dishes in Swiss cuisine is quite simple: in the west like vegetables, in the south - pasta and polenta, and in the north - beans and cabbage. And regardless of the region complementary to different dishes often acts potatoes prepared in various ways.
Popular Swiss cuisine:
"Rustic fondue" (a dish of fried potatoes and meat, pour melted cheese);
"Rösti" (fried tortilla, which is made from grated boiled potatoes and sprinkled with cheese);
"Geshnettseltes" (a dish made of fried beef strips with the addition of herbs, mushrooms and sauce);
"Bernes-Platter" (roast pork or beef with the addition of sour cabbage and green beans);
"Brunsli" (a dessert of chocolate chip cookies with almonds).
Where to try the national cuisine?
The Swiss restaurants and cafes selection of food asusually carried out in the menu, although there are places that offer comprehensive sets of 2-3 dishes in harmony, bypassing the visitors by 5-7% cheaper than ordering these dishes separately.
If you are going to rest on the mountain resorts, it is worth considering that the local restaurants are located on the slopes, open until 11:00 am, while the restaurants in hotels are starting to work from 07:00.
In Geneva, you can eat in "La Bergerie duGruyerien "(visiting this place, be sure to polakomtes signature dish in the form of funds - it is served in a large bowl, which is especially important for companies hungry visitors), Zurich - in" Zumalten Lowen "(menu of famous Swiss cuisine, among which are the meat and fish dishes, lots of appetizers and desserts, and on a sunny day to enjoy the meal you will be offered on the veranda - from here you can enjoy the beautiful surroundings), in Berne - in "La Table de Urs Hauri" (in a restaurant you can not only enjoy the Swiss cuisine, but also to visit master classes, buy wine and whiskey, to issue a contract for catering restaurant service).
Cooking Courses in Switzerland
Who will be able to attend the culinarycourses in the "Culinary Arts Academy Switzerland", and if you're a man and you want to get acquainted with the Swiss cooking, in Bern you will be asked to take a culinary course at the "Bellevue Palace".
Visit Switzerland makes sense duringof Chocolate salon (Zurich, March-April), the Swiss Gastronomic Festival (Geneva, Chamonix, Montreux, December-January) or the Festival turnip (Richterswil, November).
Photo