The most beautiful places in Switzerland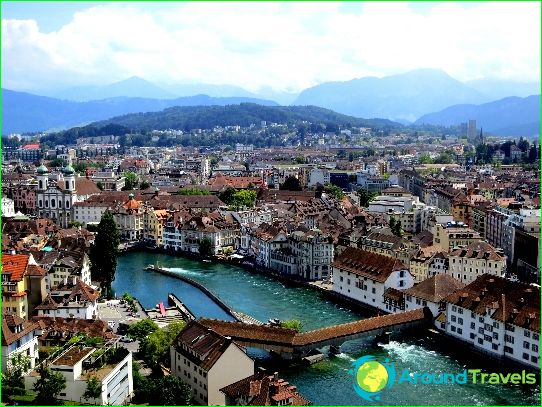 Switzerland is quite expensive, you can count on the rightcountry, but despite this, it still has a huge popularity among tourists from all over the world. Charming castles, the best track of the Alps, where celebrities often have a rest, and much more awaits tourists arriving in this wonderful country. In which city to stay? Difficult question, beautiful and interesting cities here very much and this little article is not enough to describe them all. But select multiple still be able to from the entire list.
Lucerne
According to many tourists, Lucerne - is thea city that will introduce you to Switzerland. Correct this view or not, you decide. Lucerne is one of the most famous and favorite cities among tourists visiting Switzerland. The city is ideal for travelers who do not want to spend their holiday away from civilization. Despite the fact that the city itself is small, it is very well developed tourism infrastructure, the city is occupied by the gates status in central Switzerland. From Lucerne attractions stands out a wooden bridge - the oldest bridge in Europe, a monument to the Swiss guards (the Lion), the Picasso Museum, etc.
Berne
The capital of Switzerland is undoubtedly deservesspecial attention. Bern has a huge number of architectural monuments, museums and theaters. The main sights are concentrated in the streets Shpitalgasse, Marktgasse and Kramgasse. These streets are the city's historic center. Of interest is to provide a prison tower, the Clock Tower, Bear crypt, etc.
Geneva
Geneva is the oldest town in Switzerland,which it was founded in 500's of BC. That this city is the most visited tourist destination, it is connected with unique scenery and a very rich history. River Rhône Geneva divides into 2 parts: the business and historical. In the business part of the city is the Palace of the United Nations, the Red Cross building, Europe's largest exhibition hall. For tourists the most interesting historical part of the city, which will tell and show all the beauty of the city and Switzerland - a large number of museums, parks, amazing streets of the Old Town, the lake, and the Jet d'eau, etc.
As I mentioned at the beginning, in such a shortarticle can not describe the beauty of Switzerland and tell about all the beautiful cities of the country. The above three cities - is only a small part of those places that can visit the tourist. By the beautiful cities of Switzerland also include Fribourg, Zurich, Basel, Davos, and others.
Photo