Drinks in Switzerland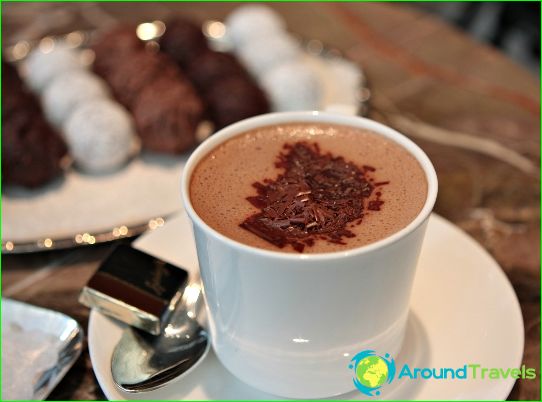 The main characters are the inviolability of the Swiss -the banking system, for centuries preserve and increase the savings of citizens, the world's best chocolate and tasty cheese with holes. For those who first arrived in the Alpine country, everything here seem surprising: the snow caps on the highest peaks in Europe, measured and unhurried life, and drink in Switzerland, affecting the breadth of the range and diversity of species per square kilometer.
Alcohol Switzerland
Customs regulations govern the stateimport of alcohol and limit the amount of not more than a liter of hard liquor and no more than two - for wine or beer. Removal of alcohol is allowed in Switzerland any reasonable limits and standards are prescribed country where the drink is imported. Prices of alcohol in the Alpine state is quite democratic. Bottle of whiskey on the quality average capacity of 0.7 liters, for example, is more expensive than the supermarket is not $ 30, but dry wine - 5 to $ 10 (for mid-2014).
The national drink of Switzerland
The main drink of Switzerland, claiming to benational product, the first of the Europeans tried to Cortez on a distant American soil. He appreciated the taste and brought a raw material for the preparation of a masterpiece in the Old World. So hot chocolate began its triumphal march in European countries. Inspired by his success painter Jean-Étienne Liotard even creates his famous masterpiece - painting "Chocolate", which depicts a girl feeding a divine hot nectar.
Today, the national drink of Switzerland offerin every cafe or restaurant. Even in the departure lounge of Zurich airport opened chocolate bar, the products of which kindly provided by the famous Lindt. Hot chocolate in Zurich - a flavored slush with cream and nuts, vanilla and cinnamon. Gourmets will refuse to leave the country, where there are not only chocolate desserts, but even the usual fondue.
Alcohol Switzerland
For the most popular alcohol in Switzerland caninclude beer and local wine. Foamy drink is a little different in quality from the neighboring German, but because the residents and guests of lager or light beer - a mandatory list of products purchased in the supermarket.
The wine industry, and allowssell grape wine of excellent quality, the varieties and grades in his country there are several hundred. The most popular alcoholic drink in Switzerland
Dry white wine Fendant.
Vintage wines.
"Williams' Pear brandy from the variety.
"Kirsch" Cherry vodka.
Photo