Prices in Switzerland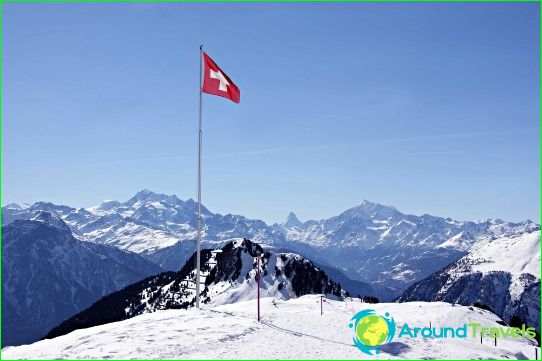 Prices in Switzerland are among the most expensive in Europe (they are higher than in Italy, Germany and France).
Shopping and souvenirs
Shopaholic advisable to come to the country insales period (the beginning of January - February, the beginning of July - August) when you can buy things known brands with 50% discount (some stores will be able to make you happy 70 and 90% discount). If you arrive in Switzerland is not the season for shopping, the outfit in this case it is advisable to outlet shopping (here things are sold at a discount in 15-75%).
From Switzerland should bring:
watches (Rolex, Omega, PatekPhilippe, Cartier),Cow figurines (the cow - a symbol of Switzerland and the Alps), wooden souvenirs, Swiss dishes (porcelain dinner service, porcelain plates depicting Swiss landscapes and sights), the Swiss Army Knife;
cheese, chocolate, truffles.
In Switzerland can be purchased chocolate - from 0.83 euros, cheese - 4 euros, clock - from 83 euros, Army Knife - from 25 euros, souvenir plates and mugs - 5-8,3 euros.
Excursions and Entertainment
Going on a walking tour of Geneva,you inspect the historical part of the city, seeing the St. Peter's Cathedral, Geneva University, Reformation Monument. In addition, you can admire the floral clock, Lake Geneva and the Geneva fountain. The approximate cost of the tour - 160 euros for a group of 2-10 people.
The approximate cost of entertainment in Switzerland: visiting castles and Gruyere Aigle - for 7.8 euros (each), the entrance to the Money Museum in Zurich - 8,3 euro fare on the ice express train traveling on the route from St. Moritz to Zermatt - 110 euros.
Be sure to take a trip to the Ice Park,which is located in Lucerne. Here you will see a paleontological finds, family house Amrein, mirror labyrinth "Alhambra" model glacial mills and other interesting things. The cost of recreation - 110 euros for a group of 2-20 people.
Transport
You can buy a travel card that allows you to ride inDuring the day an unlimited number of times on all kinds of public transport in the city (it costs 8.3 euros). And you can buy SwissPass - Pass that allows travel on all modes of transport (bus, boat, train), not only within the same city, but also throughout Switzerland. Buy a travel card, valid for 8 days, it is possible for 300 euros.
Getting from Zurich to Bern you succeed on the international train ticket for which will cost you 37 euros, and from Zurich to Geneva can be reached in 66 euros.
Minimum daily expenses (accommodationcamping or youth hostels, self-cooking, no alcohol) on holiday in Switzerland will amount to 66 euros for 1 person. But for a more comfortable stay you should calculate the amount above that at least 2-2.5 times.
Photo