Rivers of Switzerland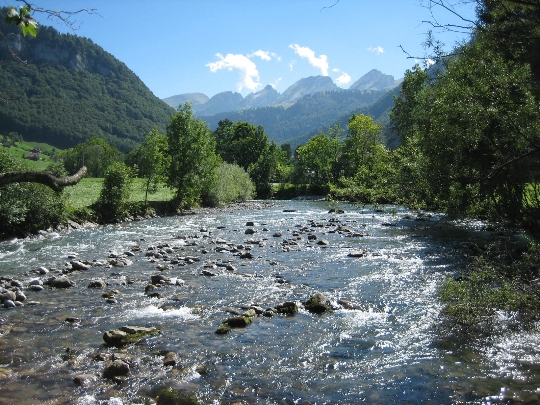 Swiss Rivers form a map of the country on a dense network and the majority originate in the Alps.
Rhine River
Rhine is one of the largestWestern European rivers and flows through just six countries: Switzerland; Liechtenstein; Austria; Germany; France; Netherlands. Rhine originates in the Alps and ends the way in the waters of the North Sea. The total length of the channel - 1233 kilometers.
River Reuss
Royce - the fourth longest river of the country. The total length of the channel - 164.4 kilometers. Geographically Royce passes through the lands of the cantons Schwyz; Uri; Obwalden; Nidwalden; Lucerne.
Source Royce - the confluence of two other rivers: Furkurёys and Gotardrёys. This happens in Urnerskoy Valley. The city Erstfeld River runs through the gorges, and then goes to the plains and flows calmly down to the confluence - Lake Flüelen.
The river is different unhurried flow. On the banks of the Reuss many interesting places in terms of tourism. This magnificent medieval buildings and beautiful gardens in the fall is simply amazing view riot of colors. Royce is perfect for sightseeing tours. Especially in demand leisurely boating.
Aare River
The riverbed is entirely in Switzerland and reaches a length of 259 kilometers. Are - the left tributary of the Rhine - begins in the Bernese Oberland.
In its upper reaches of the Aare - a typical mountainriver. On his way Aare flows through two lakes - Thun and Brienz. On the river there is a waterfall (Gandek) in forty-six meters high. On the banks of the river are the towns of Bern; Solothurn; Aarau.
One of the most interesting places of the river isAare Gorge. Its length is only half a kilometer at a depth of one hundred and eighty meters. In one of the locations of the gorge width of less than one meter. At the bottom of the gorge laid comfortable trail, on which hundreds of tourists daily walk, admiring the milky water.
Rhone River
The river passes through the territory of Switzerland and France. The source of the Rhone - Alpes, the slopes of the Rhone Glacier. There are numerous streams gradually merge together to form a river. Ron transit passes through Lake Geneva and the path ends in the Mediterranean Sea.
Ron goes through the territory of many large cities of Geneva; Brig; Lyon and others. The river banks are extremely picturesque. That is why Ron is popular for walking.
Tamina River
The river runs through the town of Bad Ragaz and is consideredvibrant local landmark. The source of the river - Glarusskie Alps (peak Sardona), and then, making a relatively short journey, the water flows into the Rhine. On its way the river forms two lakes - Gigervaldzee and Mapraggzee.
Photo