The streets of Bern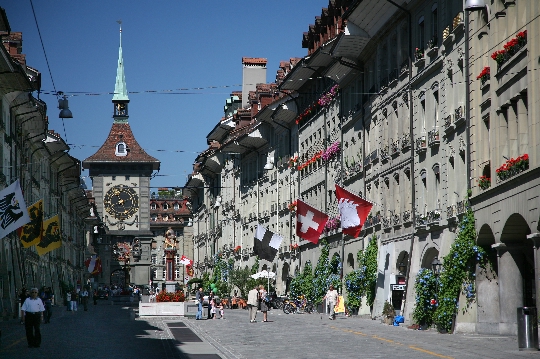 Looking at the map of the capital of Switzerland, rightyou know, from any point of the city began to develop - the river Aare makes a sharp bend, creating a natural water barrier for external enemies, that here have their origin in the oldest streets of Bern.
Walking through the quiet streets, alleyshistoric center - a journey into the past of Europe. The walls of old houses, and remember a lot can tell many stories about the wondrous boiling for several centuries of life in the city.
Marktgasse - an ancient trade center
The name translates very Marktgasse streetsjust - "Market", today it belongs to the list of small streets of the city, located in the heart of the old Berne. This life here continues to rage today - numerous cafes and cozy restaurants, souvenir shops and boutiques invite you to plunge into a real celebration.
For those wishing to see the localAttractions street has prepared many surprises: why would she was under the protection of UNESCO, if it was not on the sites of deep Swiss history. Here you can find two beautiful towers, covered with legends and with symbolic names - Prison and Clock. Decorate the streets and some lovely fountains, the most popular among the guests:
Anna-Seiler-Brunnen, named after the founder of the first medical institution in Bern;
Schuetzernbrunnen, whose name translates simply - "Arrow".
Another fountain with a fearsome national title"Kindlifresserbrunnen" is located on the granaries area. Once it was surrounded by tall walls of the Old Town, while maintaining strategic food reserves. Today it is a favorite place for tourists exploring who come to look at decorating the fountain figure terrible giant.
The record holder among the streets of Bern
This title was awarded Kramgasse street, soas it is the longest in the Swiss capital. It is considered to be a continuation of the street, a neighbor - Shpitalgasse and Marktgasse. Together they form the shopping center, which is considered one of the longest in Europe.
Here you can find a lot of interesting things,including fancy wardrobe items for ladies, antique things that appreciate real men, trinkets and souvenirs - fun for young tourists. The main highlight of the street - the house number 49, or rather, not the building itself, and one of its former residents. The list of honorary residents of this modest-looking house - the famous Albert Einstein.
Photos Bern streets