The suburbs of Bern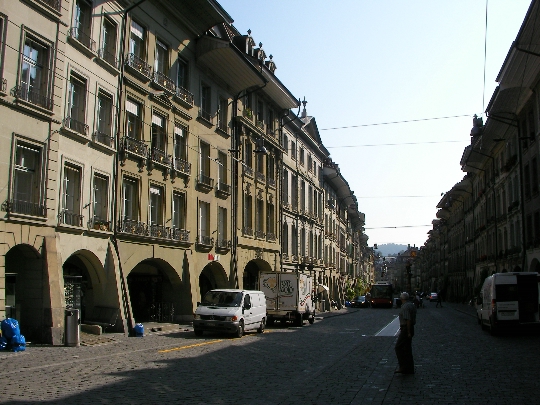 In 1915, hiding from the prosecution authoritiesfuture idol of millions, Lenin wrote about the Swiss capital, it seemed to him "a dull, small, but a cultural town." Not doubting the objectivity of the second part of the thesis, the guests of Bern noted that there does not have to be bored. Not too large by world standards European capital is ready to offer an active and inquisitive lot of interesting entertainment. Write political programs in these hotels can be comfortable today, but much more interesting to explore the suburbs of Bern, where the historical sights are harmoniously combined with luxurious natural species.
Born in the Alps
Canton Bern - is amazingly beautiful landscapes,mountain lakes and majestic waterfalls, repeatedly described in fiction and shot dozens of movies. Lake Triftsee in Bern suburbs can be compared with a newborn baby. It was formed at the beginning of this century as a result of melting glacier Triftskogo. But this is not the only attraction of the place. Travellers are able to enjoy the clear blue waters of the lake with a suspension bridge, which is now considered to be the longest suspension of crossings in the Alps.
The bridge spans the lake at an altitude of about 100meters, and its length is 170 meters. Thrift Bridge was built in 2004 for gidromontazhnyh work, and after the modernization and strengthening opened to tourists and everyone to admire the scenery opening.
Inspiration for artists
In a narrow valley near the suburb of Bern riverAre falls from 46-meter height, forming a majestic waterfall Handek. It is called the most famous and beautiful in the Alps, and the best views of the natural attraction open to the suspension bridge, which stretches for 70 meters above the canyon precipice.
Waterfall Handek became a model not just forpainters depicting the raging stream. The most famous painting was painted by the Swiss artist Alexandre Calame, who wrote "Waterfall Handek" in the middle of the XIX century.
From Emma Valley
The famous Swiss cheese Emmental appeared onlight in the valley of the river Emme in the suburbs of Bern. For its production using the milk, which give the local cows grazing in the alpine meadows. Emmental is best to buy in his native commune of Affoltern im Emmental, where it is still produced with the same observance of all the old technologies.
Photo