Trains in Switzerland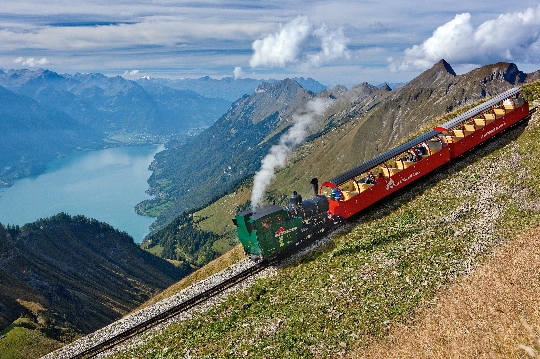 Swiss Railway system functionscohesively and smoothly. On it you can drive to any part of the country. Swiss Trains are on time, and transplant occur quickly. Such precise organization is very convenient for travelers.
Features w / d messages
Route planning your trip, please visitSwiss railways sbb.ch. There you can pick up a ticket to see the time spent in transit and the names of the intermediate stations. Train schedule in Switzerland are on the same site. Air traffic in the country is developed badly, but tickets are expensive. Therefore, tourists advantageous to use land transport. Railway in Switzerland the most adapted to the needs of passengers.
The compositions of the walking routes under strictlywith the schedule. They are distinguished by the comfort, cleanliness and lack of noise. Ban smoking in a car. If desired, the train can be rented for a day or a few hours, as well as to make other travel route.
Swiss Railways are the mostconvenient and reliable in the world. Between the main cities of the country the train moved at intervals of half an hour. The topical formulations are labeled RX and R. For the fastest w / w compositions include train IR, EC, ICN, IC. Within Switzerland there are no night trains.
The cost of the train tickets
All tickets are standard prices. A single ticket is quite expensive. For example, travel from Zurich to Bern takes 1 hour and costs about 45 francs. When ordering tickets in advance passenger gets a good discount. Discount is available on round-trip ticket.
Using Tickets Swiss Pass, passengers cansave. These tickets are for travel on conventional and panoramic routes, as well as on any public transportation. The country has used the travel, which make it possible to use the train and go to museums. In many mountain routes of travel are not.
In addition to the State Railway in Switzerlandthere are also private, which are the main mountain. Dear lines lead to the peaks of the Matterhorn and the Jungfrau. For tickets holders there are many wonderful panoramic routes and free "Arosa Express", "Bernina Express", and others.
Tickets for the train in Switzerland canLook at sbb.ch site or swisstravelsystem.com. Most often used for traveling tourists and Swiss Card Swiss Pass. Buy them can be at larger w / a country station. Outside Switzerland, tickets are sold Swiss Transfer Ticket.
Photo