Transport in Switzerland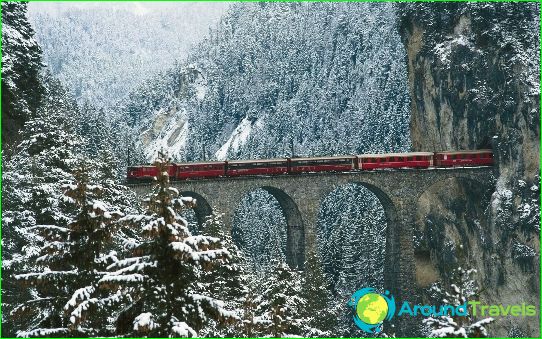 Transport in Switzerland, especially land, beautifully developed, in connection with which the internal air travel is not popular with tourists, especially since ticket prices are high.
Main types of transportation
Public transport: This includes buses, and in some cities - trams (Zurich, Geneva), trolleys, cable cars. Prior to the most remote areas can be reached by "post" buses (they ply on schedule). Directly on the bus or tram you can not buy a ticket - at each stop you will come across machines, Accept coins and special cards (they are sold in kiosks). Note that for ticketless travel provides a decent penalty.
Railway transport: Trains to major Swiss cities leave almost every hour. If you buy round-trip tickets, you can get 10% discount. In addition, substantial discounts are available for purchasing tickets in advance. It is worth noting that you can use the services of regional, high-speed trains and panoramic. Ate you're going to actively move around the country, you should buy a Swiss Pass - it will give the opportunity to travel to Switzerland on trains, buses, boats for 4, 8, 15, 22 days free to go to museums, discounted to take part in excursions, for example on mountain tops.
Taxi
Order a taxi by phone, find it in the parking lot and stop in the street. The cost of travel by taxi is quite high, and the prices vary from city to city.
Car rent
To visit the lakes, see the Swisscastles and enjoy the local scenery, it makes sense to rent a car. To rent a car in addition to the international driver's license, you should have at least 3 years of driving experience (minimum age - 21-25 years) and credit card (for a lease of some brands require 2 cards).
In the settlements it is forbidden to drive withspeeds above 50 km / h on motorways - 120 km / h, on other roads - 80 km / h. Important: ride with headlights (low beam) must be in the rain and driving through tunnels. A gathering in Murren, Zermatt, Venget should know that these cities are no road links (here can only be reached by tram or train). It's worth noting that almost all the parking fee and make payments for them should be in vending machines, located next to the parking spaces. A free parking to leave the car can only be for a limited amount of time.
Do not forget about the system of fines: talk on the phone can only be free hands, while driving be sure to wear seat belts and try not to exceed the speed.
To get acquainted with the country, Switzerland has to travel, the more that local variations of movement is very comfortable and safe.
Photo