Holidays in Switzerland in January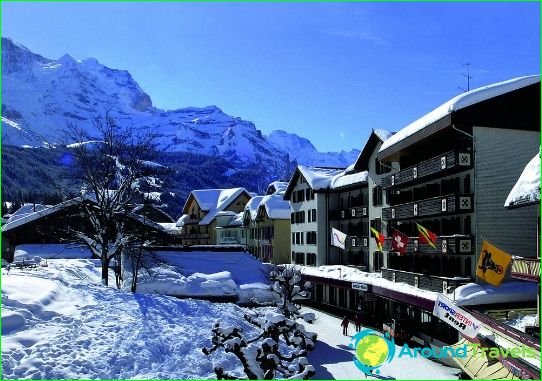 In Switzerland, dominates moderate continentalclimate. In this winter you can not count, because more than 60% of the area is covered by mountains. The most famous mountains are the Alps, which do not allow the warm air masses to penetrate to the north, and the cold arctic masses - to the south.
In the north, the Swiss winter is soft. The maximum temperature is + 2-4C, and the minimum -1-4C.
In Geneva, the average January temperature is 0C, -2C in Zurich.
In the mountain regions of Switzerland the situation with the weatherthe situation is different, because the climatic conditions are dependent on the height above sea level. In mountainous areas can drop a significant amount of snow. In addition, January is the coldest month of the year. Thermometer rests on the day -5-10C level, and at night drop to -15C.
However, it is these conditions allow the fullenjoy the views as the ski holiday, which is famous for its winter and Switzerland. Unfortunately, in the last few years there has been global warming, which worsens the situation somewhat. The opening of the ski season often have to postpone, and tours become more expensive, because of the snow has to be replaced by artificial.
Holidays in Switzerland in January
The main festival in Switzerland in January isBerchtoldstag, which is celebrated on the day of the capital base. Bern has existed since 1191 and is based on the order of Berthold Tseringerskogo, governor of Burgundy. Berchtoldstag - a public holiday in most cantons of Switzerland. In honor of the holiday decided to hold concerts, parades. People enjoying the festivities. In recent years, the holiday becomes a child, because the kids love to play various outdoor games. We should also mention the modern tradition: children collect acorns and nuts in the fall and stored until the Day of St. Berthold, and then used for games.
January can not be imagined without the New Year,which Switzerland is known as the day of St. Sylvester. According to legend, in the 4th century there lived a priest, St. Sylvester, who managed to tame the sea monster. It was assumed that in the year 1000 AD, the sea monster will run away from St. Sylvester, and destroy the world, but this has not happened. Since in Switzerland the New Year remembered legends and spend unusual carnivals featuring mythical characters, and the participants call themselves Sylvester Claus.
Holidays in Switzerland in January - it is an opportunity to get acquainted with the ancient tradition of unusual and participate in festivals and carnivals.
Photos leisure in Russia