Holidays in Switzerland in May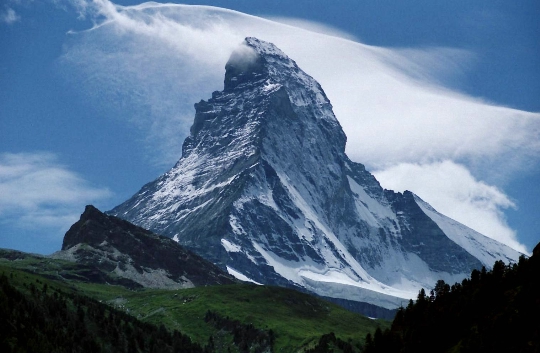 All who come to Switzerland are wondering howlocal residents who are in the middle of Europe, it is possible to protect the natural landscapes of human intervention, to preserve the purity and grandeur of the mountain peaks, lakes, rivers and waterfalls. Tourists choosing holidays in Switzerland in May, have all chances to see beautiful country and its legendary places. Visit the main natural attractions such as Matterhorn peak, which becomes in a sense a symbol of Switzerland, and its image appears in a variety of souvenirs.
Weather conditions in May
May in Switzerland - a natural luxury andheavenly grace. Across the country established a clear sunny weather. Even in the mountains warmer, forcing skiers to put their fun until the next winter season and do other leisure activities, such as excursions to major Swiss cities.
In the mountainous areas of the Alps low temperature of +10 ° C,in the valleys from +17 ° C to +19 ° C, all the flowers and smells. Tourists are provided with calm, measured rest on the shore, and the bravest of them can even walk through the shallow water.
Lucerne Attractions
This small Swiss city gained worldwide fame thanks to the preserved portion of the ramparts and nine towers, each of which is similar to the neighbor.
For example, a round tower Nolly has celebrated its500-year anniversary, a long time it was her fortress gates regulate the flow of people arriving in the city guests. The tower's name Mannlih translates as "man," and it has its own character - a figure iron man, who is holding a flag. Highest - Luegislend, it is a sentinel, and Hay served once to store fodder for the horses.
Mothers Day
This beautiful holiday all Swiss mother say on 11 May. Tourists who find themselves on vacation at this time, lucky enough to join the celebrations.
According to historians, introduced Mother's DayCalendar is not at the request of mothers or their children. It was initiated by the Swiss confectioners, florists and gardeners, who have found a great way to confess his love to their mothers while increasing revenues. So happened since ancient times, the most important gifts for moms Swiss steel cakes, flowers. The highlight of the festival - free travel on suburban trains to restaurants have beautiful panoramic views. All the ladies on the train get edelweiss flower as a gift.
Photos vacation in Switzerland