Holidays in Switzerland in September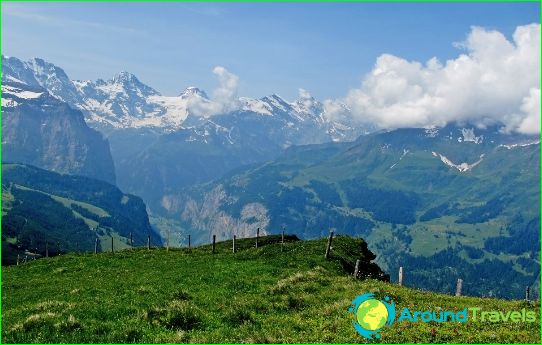 The first month brings with it cool and easya feeling of separation. Markedly diminished on Swiss streets and resorts in children, adolescents and their older fellow students. Parents with children and hurried to their hearth and home and schools.
While vacation in Switzerland carries its Septemberpositive emotions and impressions. Unhurried and measured rhythm of the city life for the countryside, rich gifts fairs and large-scale cultural projects - everything has a place and time in this hospitable country.
The september weather
There are first signs of approachingcold weather, it is especially felt in the mountains, where everywhere are preparing for winter sports enthusiasts and the mass arrival of high-speed skiing. If the Swiss valleys of heat is retained and the temperature kept in the range of August and just below, +18 ºC, at the famous ski resort of St. Moritz is already not uncommon to see +12 ºC.
Off-season in Switzerland
This is a period of calm, heat-loving tourists haveThey returned to their homes and countries, and skiers busy preparing equipment and the expectation of sufficient snow cover. Therefore, it is possible to save on the cost of the permit (it is much lower) and see the pristine beauty of Switzerland.
Meditation in the fresh air, stroll leisurelythrough the picturesque Swiss Alps, familiarity with the monuments - this is the program host fans of quiet rest. Hiking in the mountains, excursions to the most important monuments of the city and offers active, active tourists.
At the forefront of holidays
The first month of autumn is exceptionally rich oncultural events of different scale and level. Each of the Swiss cities including, of course, the capital is ready to entertain and amuse the most demanding tourist.
Festival continues in Zurich, the mainwhose members are fans of avant-garde art. They come here from all over the world to surprise colleagues and visitors a variety of exhibitions, presentations and performances.
Lausanne in October invites athletes and fans here at the international level competitions in rowing. And fans of long-distance running can join the Lausanne Marathon.
And Grindelwald, a beautiful Alpine resort,operating all year round, invites you to the celebration of a young wine. The festival, which is held here every year in October, you can see how to prepare the magic drink, and, of course, take part in the tastings.
Photos vacation in Switzerland