Wines of Switzerland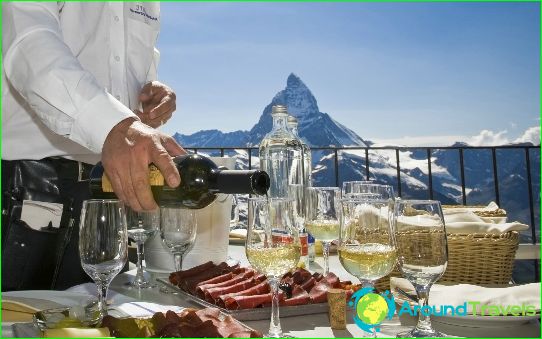 Switzerland mountain country has all the conditions forproduction of high quality wines and the mild climate and unique mountain terrain, and centuries-old traditions. But to taste the wines of Switzerland abroad is almost impossible, because 98% of its wine production remains in the country for domestic consumption. Gourmets are sent to the wine tours in Switzerland, who are familiar with the technology of cultivation and the subtleties of cooking wine. Such tourism is becoming more common, and travelers from Russia.
History and geography
Archaeological research leavedoubt that the wine produced in Switzerland before our era. Part of the modern history of the country, along with cheese and chocolate, and wine become the Swiss to be proud of all 24 of the canton. In each of them there are vineyards, but most of the beverages produced in French-speaking regions of the country.
Head of the Swiss wine center is located in theRhone Valley, where summer is hot, autumn - dry, and winter - soft. Most of the plantations in the undeveloped hillsides in the form of terraces, and the main varieties are grown, it is the red Pinot Noir and Gamay. Blended of these wines have a light fragrance of strawberries and a certain acidity, making them easy to drink and perfect for meat dishes.
Drink young
Swiss Wine should not be stored for a long time. With age, they are not always getting better, they lose their freshness, but because they preferred to drink young. A striking example - a white wine from varieties Fendan. If you do not drink it young, it loses much in taste and becomes a "flabby". Enologists believe that the reason for that is too hot climate on the slopes in some summer months.
Is no exception to the rule and slightly sparkling wine "Doren". It produces several wineries in the place where the Rhone flows into Lake Geneva.
German roots
Cantons in the east of the country speak German andproduce especially valuable red wines. From grade Blauburgunder local winemakers are preparing quite heavy, aromatic wines of Switzerland, in shades which clearly felt notes of pomegranate, wild cherry and raspberry.
Classification of wines and quality monitoring systemSwitzerland may seem somewhat illogical, in comparison with other European countries. But the label is bound to be a geographic place of origin of wines and grape varieties blended to produce it. In the German cantons bottle supplied with the inscription "Winzer-Wy", and in the Italian VITI marking is a guarantee of excellent quality.
However, all the wines of Switzerland, according to experts, is unreasonably expensive. Perhaps in this lies the reason for their absence on the shelves of wine shops in other countries.
Photo