Airports in Taiwan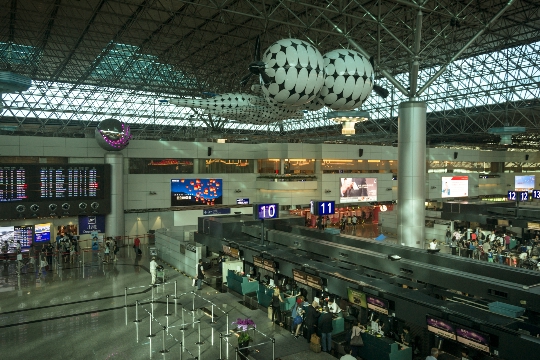 Self almost every wayisland Taiwan Province of China attracts fans of various entertainment and business, showing their goods in the face of numerous prestigious exhibitions of world importance. All land in Taiwan airports located in different parts of the island.
Direct flights from Russia to Taiwan not, but withdocks there is no problem to get on airplanes, both European and Asian carriers. Best prices for tickets usually offer Korean Air (via Seoul), Cathay Pacific (via Hong Kong), Singapore Airlines (via Singapore) and Thai Airways (via Bangkok). The Europeans should pay attention to special offers Italian, French and Dutch airline KLM.
International airports in Taiwan
Despite the modest size of the island, it was built more than a dozen airports, apart from which the status of international capital are:
Kaohsiung in the south-west of the province appeared on the mapin the middle of the last century. It offers domestic and international terminals and accepts planes from Malaysia, Mainland China, the Philippines, Japan, Bali, Vietnam, Macau and Indonesia. Taxi transfers available from any terminal, subway and bus station are also in the arrival areas of both domestic and international lines.
Taichung in the west of the island receives the internalflights from mainland China and Hong Kong in Terminal 1 and international - in the second, which was built in 2008. Hence the bead airlines fly to Seoul Mandarin Airways.
metropolitan area
The main air harbor of the Chinese provinceTaiwan is located 40 kilometers west of the metropolis of Taipei's largest island. Taiwan Airport serves as a major gateway to the Asian scale and serves more than 35 million. Passengers annually.
The world map is dominated by flights to destinationsNorth America, Western Europe, Southeast Asia and Australia. The airport works with airlines China Southern Airlines, Air China, Malaysia Airlines, Korean Air, Cathay Pacific, Delta Air Lines and KLM. The largest passenger traffic is sent to Hong Kong, Tokyo and Shanghai.
Services and transfers
In anticipation of the voyage, passengers of the Moscow airportTaiwan can make purchases in stores Duty Free, dine in the many restaurants, take advantage of wireless internet, and in the arrivals area - currency exchange and rent a car. Wait out the long dock conveniently in the hotel at the airport, which is equipped with a restaurant, a beauty salon, a fitness center and spa.
In the south-eastern area of ​​the airport opened an interesting museum exhibition is devoted to the history of aviation.
Transfer to the city you can order a taxi or buy a ticket for a bus that leaves every 10 minutes from both terminals to all parts of Taipei.
Photo