Traditional cuisine of Taiwan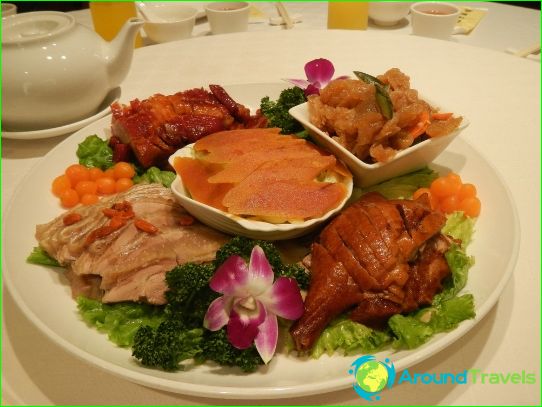 Meals in Taiwan is characterized by the fact that the Taiwanese cuisine influenced by a marked Chinese and Thai culinary traditions.
Taiwan Food
Taiwanese diet consists of rice, soy, vegetables, fish, seafood (oysters, shrimp), meat, bamboo shoots, porridge made from millet, maize and sorghum.
In a particularly favored by Taiwanese fish is (they are her stewed, grilled, baked, fried with black pepper) and vegetables (they solyatsya Marina, kvass, dried and used fresh).
From soybean locals make milk, sauces, butter, cottage cheese "tofu", salted paste.
In Taiwan, you will have the opportunity to trymeals, which consist of an unusual combination of products, such as rice, seasoned with the blood of an animal; cottage cheese "tofu" with red sauce; eggplant stewed in soy sauce.
In Taiwan should enjoy the rice balls,wrapped in bamboo leaves ( "Zhong-zi"); noodle soup with chicken broth ( "ji-shi-tang-Mian"); salad, which is based on pickled cucumbers ( "CAO-Huang Liang-qua-ban"); Taiwanese steak (meat with a side dish of cereal and vegetables); sharp sweet-sour soup with shrimp ( "what-pits-Goong"); "Tea eggs" (a dish based on roots and vegetables cooked in a rice broth).
Those who prefer to try different countries exotic food in Taiwan can enjoy dog ​​meat and snake meat, and various insects.
Where to eat in Taiwan? At your service:
cafes and restaurants, offering its guests the dishes of national and other cuisines;
snack bars;
Fast food places (McDonalds, Sushi Express);
Restaurant with barbecue (you can toast yourself imagine seafood, vegetables, meat).
If your - aim to save, then the cheapest foodyou can find on the night markets (nightmarkets) - here you can buy a variety of food such as fried squid on a stick and other seafood, sausages, various juices and fruits.
If you want to visit a unique institution,visit the restaurant "Carton King Restaurant": everything (tables, chairs, dishes, wall), in addition to food, it is made of cardboard and paper. This restaurant is located inside the park Carton King Creativity Park.
Taiwan Drink
The most popular drink on the island of Taiwan are tea (bags, crumbly, special mixtures, pu-erh), coffee.
Tea is so popular that it is baked in pastry and marinated meat and seafood in tea leaves (these unique dishes can be enjoyed in the local restaurants).
Gastronomic tour to Taiwan
To get acquainted with the local food, it is necessary to go to a gastronomic tour of the culinary capital of Taiwan - the city Shenken: to be arranged "delicious" tour of the local restaurants.
Taiwan Recreation will be a paradise for gourmets around the clock as a kitchen island delicacy and incredibly diverse.
Photos of National Taiwan dishes