Metro Taipei: circuit, photos, description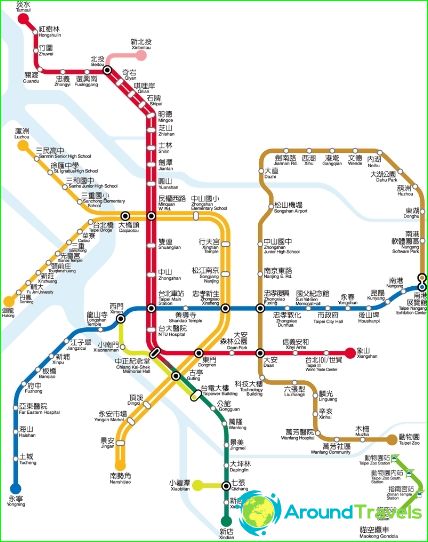 Taipei Metro map
Metropolitan Taipei opened in 1996. In the vast metropolis, this form of transport has significantly reduced the problem of traffic jams on motorways. Today, in its composition - ten full lines, the length of the routes on which more than 120 kilometers. For passengers Taipei subway opened 115 stations daily host to 1.7 million passengers. In the year of the Taipei subway services are used by at least 600 million people.
Each of the ten branches of Metro Taipei hasown mark on the charts. "Red" branch line connects the north-west with the eastern districts of the city, while passing through the business center. According to the "blue" line can be reached from the south-western suburbs to the eastern districts, and "yellow" line, starting in the south, takes passengers to the western suburbs.
Announcement station names in the subway carsTaipei is produced in the Chinese language, but they circuits necessarily duplicated in English. For elderly passengers and people with disabilities all Metro Station Taipei are equipped with special lifts. Underground stops are escalators system and information panels provide information about the composition of the next remaining waiting time.
At stations where there is particularly intensepassenger traffic, set barriers that enclose the platform from the tracks for the safety of people in the peak hours. Unlike many subways of the world, the Taipei subway at each station for passenger services are toilets and information points. In addition to underground routes in Taipei, there are light metro line.
Taipei Metro Pictures
Taipei Metro map