Bangkok 1 day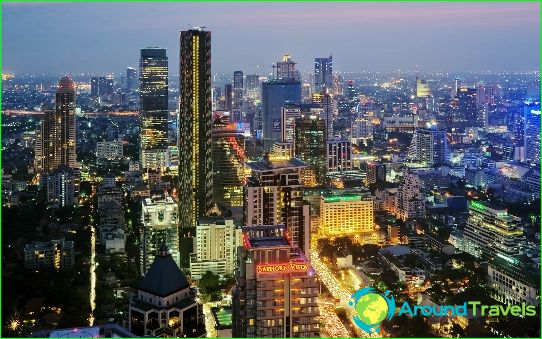 The capital of Thailand is often a pointdock for those who fly enjoy the sea and sun in the beach resorts. The can offer its guests to Bangkok for 1 night and have a chance to grasp the immensity?
Buddha and all his incarnation
For those who find themselves in Bangkok for the first time, the cityIt may seem overwhelming and chaotic layout. It is situated on the banks of the Chao Phraya River at the site of its confluence with the Gulf of Thailand. The main architectural attractions of the Thai capital are on Rattanakosin Island. It began in Bangkok, and now here are the existing and palaces of monarchs, and many ancient Buddhist temples and monasteries.
Introduction to ancient Bangkok should start withVisit Wat Pho - Reclining Buddha Monastery. The biggest in the world the image of the deity lying covered with gold leaf, his feet are made of mother of pearl and mosaic walls and a marble balustrade dazzling luxury and fine workmanship. Buddha "caught" by sculptors in the process of waiting to achieve Nirvana. The length and height of a sculpture made up 46 and 15 meters respectively.
A few steps from the temple is located monatyryaEmerald Buddha - Wat Phra Kaew. It is considered the most beautiful and sacred place in the country and holds a unique statue. 66-inch Buddha carved from a single jade crystal stone, and his garments match a certain period of the year or the holiday. Emerald Buddha has long been hidden in the clay statue and accidentally discovered in the XV century. The temple is famous for and its elaborately carved and stone statues guarding its external terraces. To visit the monasteries and temples require clothing that covers her knees and plechi.S sunrise
If you visit Bangkok for 1 day beginsearly in the morning, it is worth to start sightseeing with a visit to Wat Arun. Its name translates as The Temple of Dawn, and called this architectural masterpiece in honor of the god Aruna. It is located on the opposite Wat Pho river, and to reach the highest pagoda in the city by boat from the pier, located a few minutes walk from the house of the Reclining Buddha. The height of the Temple of the Dawn is different in different sources, ranging from 67 to 88 meters. The main feature of the pagoda is carved in the fact that it is decorated with pieces of broken china, shells and colored glass. Unique views over the city from the open viewing platforms Wat Arun - the temple of the reason for the popularity of the guests of the city. Particularly impressive is the view of the city at sunrise. To climb to the pagoda did not cause problems, it is important to wear comfortable shoes with non-slip soles.
Attractions, markets and temples of Bangkok
Photo