Prices in Bangkok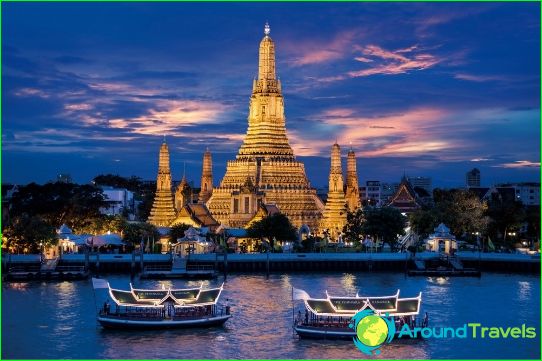 The largest Asian city is Bangkok. It is the capital of the Kingdom of Thailand, they want to look at the tourists from around the world. If you enjoy an active and exotic vacation, leave it there. Prices in Bangkok on holiday are available, if you compare them with other well-known resorts of prices. Flight to Thailand is cheap. Very favorable gets tickets to tourists who enjoy shares, carried out by air carriers.
Accommodation in Bangkok
The resort operates more than 200 hotels of differentprice category. Budget hotels do not guarantee good service to tourists. It is best to rent a room in hotels 4-5 *. There you will be provided with comfort.
In Bangkok, you can rent an apartment in a condominium(Condo) or private house. Miniature studio without additional services rent for 3000-5000 thousand baht per month. Most are cheap family hotel. Each of them is a guesthouse run by the family. In this hotel you can stay in a comfortable and clean room for a low price - $ 2, or 50 baht per day. The cheapest hotels no hot water and air conditioning.
The peak tourist season in the wintertime. During this period, the cost of hotel rooms increased. In April and May to rent a house can be very cheap, because at this time in the city is very hot and little travelers. House prices largely depend on the area. Hotels located near the sights and center, demanding higher pay for the rooms. The most expensive rooms Chakrabongse Villas offers a 5 * hotel. Each room there takes a single villa. The rent for a room is a minimum of $ 500.
Where to eat
If you plan to live in a family hotel, theYou can negotiate with the owners about nutrition. Cheap food sold in the street stalls. At the lowest prices you will try dishes of national cuisine. A bit more expensive food in the restaurants of Bangkok. Prices for food in this city affordable. Continental breakfast costs about 30-130 baht. Good lunch costs 250 baht per person.
The transport system
The capital of Thailand is well developed publictransport. In any area of ​​the city you will easily be reached by bus. By purchasing the card for 50 baht bus routes, you can easily orient in Bangkok. A popular form of transport is the tuk-tuk - a three-wheeled vehicle with a motor.
Trips to Bangkok
Inspect the main temples and palaces of the cityIt allows tour. Its cost is about $ 100. The same amount is worth an evening walk with a guide through the capital of Thailand. The special tour dedicated to the temples of Bangkok, is worth at least $ 45 per person. Good reviews a tour through the city. She carried on the ferry, and costs $ 40.
Attractions, markets and temples of Bangkok
Photo