Transport in Bangkok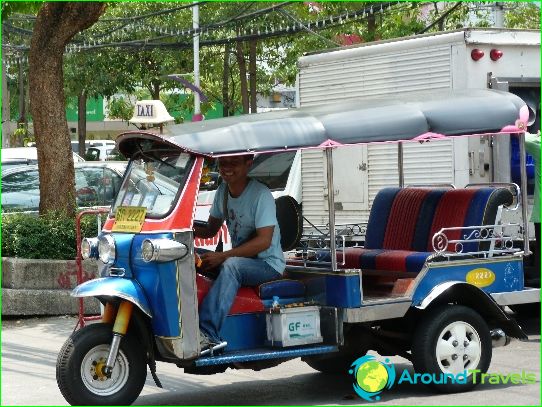 Bangkok is one of the largest cities in Asia and the world. Every tourist should prepare for the complicated network of roads and streets, which leads to poor mobility.
Bus
The most popular type of vehiclesa bus. The city has about three hundred routes on which eleven thousand buses are moving on a regular basis. In some areas at night (from 23.00 to 05.00) are buses. Normal, daily, routes operate from five in the morning until eleven o'clock in the evening.
It should be noted several types of buses:
Red with white stripe, white - 6.50 baht.
Blue (without air conditioning) - 7.50 baht.
Express buses are red and cream colors - 8.50 baht.
White and blue buses with air conditioning - 10 - 18 baht.
Euro buses orange and yellow - 11 - 23 baht.
Red minibuses are distinguished by the presence of only seating.
Bear in mind that the buses do notIt stops at all stations, so drivers should be alert about what you are planning to go, but if you want to go - you need to give up, standing on the sidelines.
Metro
Ground Metro SkyTrain (BTS) crosses Bangkokthrough the central part. This type of travel is recognized as the most convenient and secure. The work falls on the period from six in the morning until 12 at night. The average range of motion is between three to six minutes during peak hours - two minutes. The cost of travel for fifteen trips - 405 baht, twenty-five - 625 baht, at the forty - 920 baht, at the fifty - 1100 baht. Purchased travel act for forty-five days.
Underground subway in existence since the summer of 2004. For travel to be paid from 16 to 40 baht.
Taxi
Transport in Bangkok also provides a taxi. Ordinary taxi, which was registered, is distinguished by the display «Taxi-Meter». Take into account that you are charged for each kilometer, you passed. The average may be required to pay 50 - 250 baht.
In many cities in Asia and Bangkokcommon motorcycles with sidecars with a roof that fastened to the rear. This transport is called a tuk-tuk. Among the advantages of mobility should be noted and the possibility to travel to any place. Among the shortcomings should be noted the high cost and lack of meters, which means that the need to agree on payment in advance, the need to breathe air gassy.
The fastest and dangerous way to travel is motorcycle-taxis, which are ideal during peak hours.
Photo