Activities in Bangkok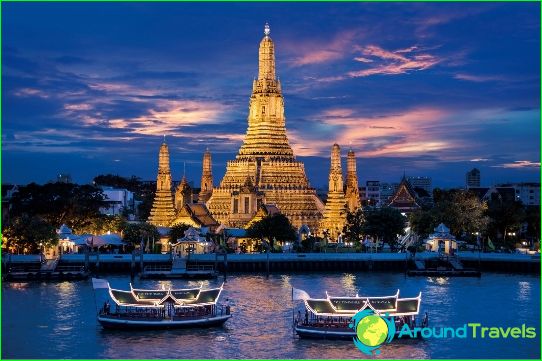 Holidays in Bangkok - is familiar with the exotic culture and architecture, as well as the chance to sample Thai cuisine, spend time in bars and other places of entertainment.
The main types of holiday in Bangkok
Sightseeing: on one of the excursions you will see Vimanmek Palace, Temple of the Emerald Buddha, Jim Thompson House, Wat Pho, the Temple of Dawn, Golden Mountain as well as look into the National Museum. If desired, you can go on a tour of the canals and the Chao Phraya River - you can admire the city blocks, built on the water, Royal Palace (be sure to look at the changing of the guard), to visit the floating market. If you decide to enjoy the city with a bird's-eye view (rapid inspection of the capital of Thailand), you will be offered to make the trip to "heaven subway."
Active: tourists will be offered to play golf, watch the show "Siam Niramit", go to the zoo "Safari World" Aquarium "Siam Ocean World" (it is divided into such areas as "Open Ocean", "weird and wonderful", "Sea jellyfish" and others), to watch the fights of Thai boxers in one of the stadiums (eg Ratchadamnyn), have fun in the water park "Siam park", the amusement park "Dream World" (offers a variety of attractions, shows, cafes) or night clubs ( look for them in the red Light District Patpong and along Sukhumvit Road).
Event: in the city arranged a lot of activities in honor of the festive events and, therefore, arrived in Bangkok, you will be able to attend the celebration of the Chinese New Year (January-February), the National Day of the Thai elephant (March), Thai Beer Festival (November-January), the Vegetarian Festival (October).
Prices for tours to Bangkok
Vacationing in the Thai capital recommendedNovember-April. Since that time - the high season, prices rise by 40-50%. The increase in the cost of permits in Bangkok observed in the New Year and Christmas holidays. Save as possible, arrived in Bangkok during the low season, which lasts from May to October. But it is worth considering that at this time is quite hot + rains, lasting 15 minutes - 1 hour.
On a note!
Travel through the city best by metro, since the peak hours buses are crowded and have to spend a lot of time to get from one to the other attractions.
Before visiting public institutions and temples is a responsible approach to the selection of clothes - dress should not be provocative and outspoken.
If you are interested in buying jewelry, do not send them to the local market - the tourists here are often deceiving, trying to sell him a fake at a high price.
In memory of the holiday in Bangkok can be broughtThai silk, jewelry, precious stones, crocodile leather, Buddha statues and elephant, a necklace of pearls Thai ceramic products Thai rum.
Attractions, markets and temples of Bangkok
Photos holiday in Bangkok