The best restaurants in Samui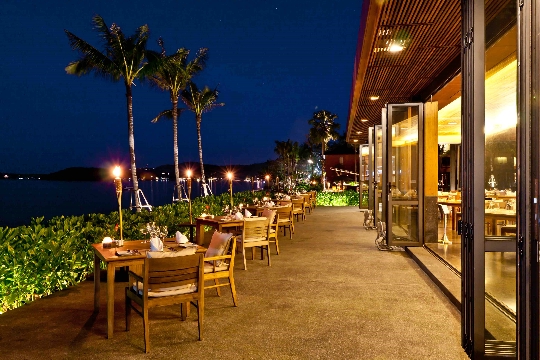 Island of Koh Samui - it is primarily the net not crowded beaches and interesting excursions. Unique attractions and the best restaurants in Samui will delight gourmets and lovers of active holidays.
The main attraction of Koh Samui - romovarnya«Magik Alambik». In addition to tasting the drink, you can see the whole process of the production of rum. By the way, try here there is - local craftsmen brew this drink with a variety of additives, such as lime or coconut.
vegetarian restaurant
Healthy lifestyle on Samui is quite popular,so there are many such institutions. Here are some of them: «Radiance Restaurant»; «Vikasa»; «The Garden Caf»; «Soul Food Caf»; «The Love Kitchen». These restaurants serve only vegetarian dishes and for "raw foodists" and "Radiance Restaurant" even has its own cooking school, where everyone taught the basics of a healthy diet.
Thai restaurants
In the first place there is a restaurant «Chef Choms» among the restaurants with local cuisine. The menu is the most that neither is royal, and guests were entertained by live music.
Restaurant «H.O.T.» offers two cozy rooms and a variety of Thai food.
In the immediate vicinity of the sea isRestaurant «The five Islands». The interior is more European and sophisticated, and the menu is dominated Thai dishes. Also a lot of different wines and exotic cocktails.
Korean
The most famous restaurant - «Blue Garden». In the restaurant you can not only enjoy excellent dishes of the national Korean cuisine, but also try to cook them yourself. It's worth noting that in addition to the ordered dishes will still be plenty of free snacks, mainly fish. Prices are average, and the kitchen is great, so the restaurant is very popular.
European cuisine
For example, the menu «The Z» of the restaurant's full nameEuropean dishes, but their base - seafood. Institution «The Three Monkeys» seems more on a bar than a restaurant, although the food here is excellent. Guests have a pool table and sports channels. ideal «Leelavadee» For a romantic evening. Fans of the fashionable modern establishments like «The Page». There is a bar and several cozy rooms and a relaxation room. The kitchen is both Thai and European.
Samui Island - very exotic and interesting place in which there is the nightlife - bars, discos and even an Irish pub. Holidays to Koh Samui leave no one indifferent.
Photo