Zoo Samui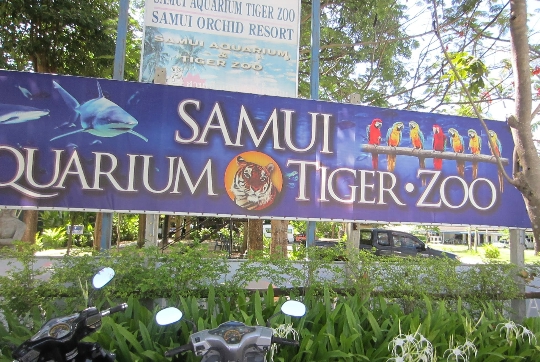 This animal park on the Thai island of Koh Samui is consideredthe most diverse on the part of the entertainment offered. Here you can watch the inhabitants of the aquarium, feed the sea turtles, admire the graceful tiger, clouded leopard see and enjoy the numerous shows, which together with the people willing to participate and animals.
Samui Aquarium and Tiger Zoo
Bengal tigers - the main pride andan integral part of the name of the zoo Samui. Some of the trapped here were rescued from poachers and grown from small kittens, others hit the park as adults. Tiger's show - the most popular attraction, as powerful predators serve it together with people and demonstrate excellent skills.
At 13.30 daily performances by sea lions, the main star of which is deservedly considered Peggy.
How to get there?
The park is located in the south-east of the island of Koh Samui nearby Butterfly Garden. More guidance for those who commute alone, - a beach and waterfall Lhaem Set Na Mueang.
Zoo Address - 33/2, Moo 2, Maret, Koh Samui, Suratthani, 84140 Thailand.
The price of certain types of tickets includes transfer, and the rest, visitors can take a taxi or rent a car or a scooter.
Travel time from Samui Airport is half an hour. The road from the ferry Seatran and Chaweng beach takes about 20 minutes.
Helpful information
Opening hours at the zoo Samui - from 11.00 to 17.00 seven days a week.
The price of tickets depends on the number of shows that a visitor wants to see:
The simplest tickets cost 750 and 450 baht foradult and child respectively. They include a visit to an exotic bird park, a show with sea lions, Bengal tigers and the performance of "Amazing Birds". Transfer to the zoo in the ticket price is not included.
The same, but with delivery to the park will cost 1,400 and 1,000 baht respectively. The set of pleasures also includes a welcome drink and a sandwich.
Visit all of these shows, enjoy lunch and receive a free photo with Bengal tigers can be for 1900 baht for adult and 1400 - for the child.
In 2500 and 1800 the price of Baht included extra half-hour walk to the top of an elephant on the beach.
The most expensive tickets accrue to those who decidedswim with a favorite sea lion Peggy. The question price - 3000 baht for adults and 2,000 - for the child, but the latter should not be shorter than 120 cm.
To get a discount on tickets for children should have a growth not higher than 140 cm. Kids increasing meter or less are entitled to free admission to the park.
Services and contacts
In the carriage, pulled by a small horse, you can ride on the territory, and photos from your favorite animals, if possible - to make an additional charge.
Official Site - www.samuiaquariumandtigerzoo.com.
Telephone +66 (0) 7742 40 178.
Photos Zoo Samui