Shopping malls and markets in Pattaya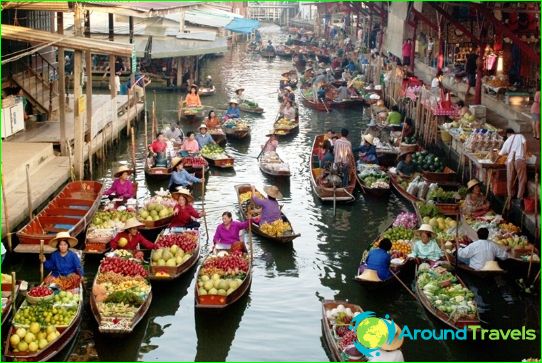 In Thailand, the shopping is not just cheap, but verycheap. So prepare more money to profitably purchase. In Pattaya, every shopkeeper or shop - my own boss, so the sale can be caught at any time of the year. But in the second half of summer, when the rainy season begins sweetest time for shopping - Amazing Thailand Grand Sale.
Shopping Malls
Commercial and entertainment malls in Pattayaorganized in the usual format for the Russians: everything under one roof: clothes, shoes, cosmetics, accessories, home appliances, as well as cafes, restaurants, entertainment, banking, beauty salons. Prices are more expensive than in neighboring shops and markets. A definite plus - there are cool, you can take a break from the sweltering heat.
Central Festival Pattaya Beach - the main shopping center Patiayi, the largest, with a wide range of additional services: banks, beauty salons, small medical practice ophthalmologist and dentist.
Royal Garden Plaza - a relatively small shopping center withown "flavor". According to its design it is most likely to be remembered as "one in which the aircraft flew." It features original games on the top floor: the museum "believe - do not believe", hot air ballooning, horror room, a kind of museum of wax figures.
Outiet Mall - a large shopping center, offershuge discounts of up to 80% on branded items. Cash here it is better not to take, unlike most stores, there is more profitable to pay off the card. Located next to the market Teprazit.
Lukdod - a great gift shop. Here you can view or buy the products of local artisans from ivory, wood and leather, as well as leather bags and even furniture. Many souvenir shops and beach vendors bought it, and then sell the goods at exorbitant prices.
markets
The markets are, of course, excursion sites, where you can get accustomed to the local population and its customs. Here, hold events in honor of the national holiday, trading and simply communicate.
you can taste at the local food marketsexotic: fruits with completely unknown to you names or fried insects. Against the background of fried locust skewers of crocodile has will be taken calmly. In Pattaya, there are only fruit markets, fish markets and selling all the products mixed. Buy summer bright clothes from light natural fabrics better on "flea markets". They trade here and souvenirs, folk crafts, local potions of all diseases, cosmetics made from natural ingredients.
Pattaya floating market - the market for water. Is it possible to skip such exotica? Take a stroll on the wooden boardwalk, Bargain with the sellers - boaters. Participate in extreme pastimes - riding or bungee jumping in the water zorb. The market is open from 10 am.
Thepprasit weekend market. In addition to the traditional commodity market there are lot of "bird market", where they sell animals. Opening hours: in the evening the weekend, including Friday, from 19-00 to 22-00.
Walking street night market. The market opens at six in the evening and trades until late at night every day.
Electronics
In many markets you can buy PattayaChinese counterfeit electronic devices. For truly high-quality electronics have to go to The Pattaya Tuk Com IT Center in South Pattaya. Here you can buy original IT-device and their copies. Often, such a copy is no different in appearance from the original, is working properly and is worth a penny. Original gadgets are about the same as in Russia.
Photos Pattaya shops