Transport in Pattaya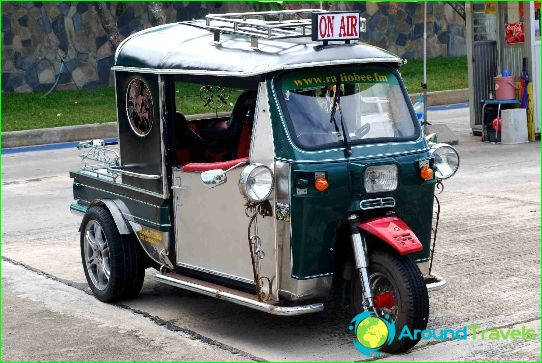 One of the most famous resorts in Thailand for a long time andstrongly populated by tourists from the countries of the former socialist camp. Now they are happy to indulge in all the pleasures of the capitalist rest, especially since a lot of places in Pattaya, where you can perfectly have fun and relax.
This main resort in Thailand is muchunusual for European tourists, for example, looks very exotic vehicles in Pattaya. Many bicycles and mopeds, strange design of cars festooned with advertising from roof to wheels.
In the resort there are a few basichighways, some are parallel to the beach, the other a ring round the town, linking its different parts into a unified whole. The main feature - the names of the roads no European will not remember neither the first, nor the second.
Beware: taxis
In Pattaya, as well as any international resort,well-established work taxi. And exactly the same sly or brazen can be drivers. Therefore, if there is a need to quickly get to a point of the city, you should try to catch a car with a checkered, without the help of those who are in the parking lot.
This method is always cheaper. But it is important that taxi driver turned on the counter, otherwise the cost of the trip will be much more expensive than the official price. If the taxi driver does not agree to include a counter and there is no other way to go, it is appropriate serious bargaining.
Mototaksisty also popular with resort guests,identify the driver of the vehicle easily on a bright colored vest. Traveling on a motorcycle - a rather extreme form of movement, so be sure to wear a helmet.
Almost your car
If the company plans to tourists except for recreationthe beach a lot of traveling around the city and the surrounding area, you can rent a car. Lease period of days to a month or more, the cost decreases as the time.
And you can use a car orrent a bike, which is much easier to move around the city. The amount of fee once paid in full, the client fetches the car to the hotel, from here take. Gasoline tourists have to buy for their money.
Knock, knock: the car
Indoor pickup, with two rows of seats - the mostan unusual form of transport in Pattaya, of course, in the eyes of the unsophisticated tourists. Something like a taxi, but with features. If the driver's tourist persuade him to go in the right direction, all the others are forced to leave the car, however, pay the fare in this case is no longer necessary.
Photo