Shopping in Pattaya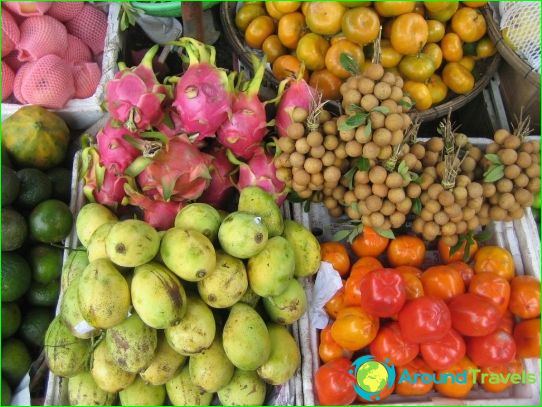 Fruits in Pattaya
While vacationing in Thailand, I would like to buy something onthe memory of this colorful, joyful, hospitable country. List everything that you can bring back from Pattaya, it is impossible, but to identify the most popular and frequently mentioned items and souvenirs as possible. So that carry tourists from Pattaya?
Exotic fruits and vegetables
Thailand is famous for its abundance and diversityTropical fruits and vegetables. Even loved by many bananas are represented by several varieties. Little-known we have a kind of fruit (often - a pleasant) taste, you can bring your friends and family as gifts. Names already intriguing: Dragon Eye (cactus fruit), longan, mangosteen, Noin, rambutan, tamarind. Coconuts are everywhere. Do not take it with you on the plane durian - will not pass because of the strong odor. Buy exotic fruits can be in any market or in major department stores. The most famous - the markets on the streets of Central Pattaya Road, Second Road, Naclua Road.
Cosmetics and tea
Coconuts in Thailand not only quenchthirst. Of them produce coconut oil - the perfect cosmetic. Moreover, this oil is not too expensive - from 150 baht per bottle. Lovely inexpensive cosmetics - another kind of popular souvenirs from Pattaya. It is known Thai hypoallergenic deodorant "Crystal" 50-100 baht, Thai balms, shampoos, creams and scrubs for 50-200 baht, curative and whitening toothpaste from 35 to 95 baht. Popular with tourists Thai tea, which, like cosmetics, have medicinal properties. For example, Bengali Blue flower tea is useful for bronchitis.
Products made of wood and leather, clothing and footwear
What to buy in Pattaya for themselves or relatives thansurprise and please close - everyone decides, taking into account the thickness of the purse. Here you can buy unique products of teak - furniture, figurines, boxes, images of elephants, snakes and other animals. Many acquire panels with dried insects - beetles, butterflies. Statuette of an elephant, for example, will cost 100 baht and up (depending on size). The shops of Pattaya you can buy relatively inexpensive products from crocodile skin, snake, and if you're lucky - from the skin of an elephant. Handbags, purses, frames, lanyards are much cheaper than ours.
The resort sells a lot of clothes and shoes,various accessories, both local and national producers and labels well-known international companies. For example, T-shirts from 200 baht, shorts at a price of 200-300 baht, summer shoes from 350 baht, Thai scarves from 600 baht and up.
ornamentation
It is very popular among tourists of Thai productspearls. Small necklace you can buy, bargain, for 350 baht. Articles of precious metals with rubies, sapphires and other stones will cost much more expensive. And yet, here you pay for jewelry gifts less than the native metropolitan boutiques.
But remember that you can not take out of the country's Buddha image (only in the form of a wearable medallions). A corresponding certificate will be required for the export of precious stones.
Number of Photos in Pattaya