Where to eat in Pattaya?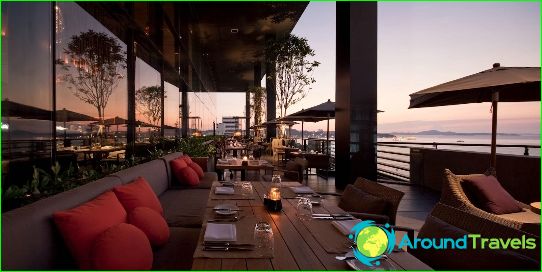 "Where to eat in Pattaya?" - A topical issue for the tourists coming here. At your service - cafes, makashnits, restaurants, night markets ...
Where to eat in Pattaya cheap?
Inexpensive meal you can by contactingoffers mobile carts - makashnits: Thais behind these trucks will be able to quickly prepare for your Thai dish (chicken skewers, spring rolls, noodle soup and meat), worth $ 0.9-1.5.
Budget snack food courts can be opened at Pattaya hypermarkets (approximate cost of 1 meals - $ 0.9-1.8).
On the night market, located, for example, nearshopping center Tesco Lotus, you will see large vats of soups and other dishes of Thai cuisine. It's worth a try telapiyu fish, fried in salt and rolls stuffed with bananas and topped with condensed milk.
Where to eat in Pattaya tasty?
Casa Pascal: this restaurant specializes in delicious creative cuisine based on Thai and European cuisine. For example, by going to this restaurant for Sunday brunch, you will be treated to seafood, meat, fish, as well as house wine (power on "buffet" system).
Hopf: from this restaurant will delight fans of Italian cuisine. Here you can taste the classic Neapolitan dishes and most delicious pizza, which is then cooked in wood-fired oven. And the restaurant has its own brewery, and thus there like fans and beer.
Caramel: in this place you can sample traditional Thai dishes, including such exotic as crocodile meat, fried scorpions and grasshoppers. In addition, the restaurant has an excellent wine list.
Paradise: visit this restaurant, you can enjoy Swiss cuisine from lamb and ostrich, variety of salads, delicious desserts. A small restaurant offers visitors a children's menu.
Mantra: this restaurant with a luxurious interior, you can enjoy Asian and Mediterranean cuisine - the best chef of the resort will arrange for you a real culinary show. In addition, the restaurant is famous for its open-air terrace and a cellar with a rich wine cellar.
Gastronomic tours around Pattaya
On the gastronomic excursions in Pattaya youvisit the tea shop of the city, where you will learn about the culture of tea, take part in a tea ceremony, taste the best varieties of Thai tea. Continuing the tour you will be transferred to the floating market - aboard a boat ride on the channels you walking so on trading the market rows. And in the final part of the gastronomic excursion program for you to organize a walk through the vineyards of the Silver Lake - here you can dine, wine tasting Thai and learn about the local wine industry.
Select food restaurant in Pattaya is quite difficult because of the abundance of institutions belonging to different price categories, with European, Asian, Indian and other cuisines.
Photo