Thai Culture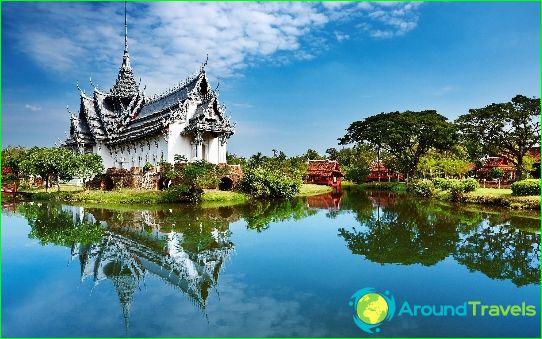 One of the most "assimilated" states touristsSoutheast Asia, Thailand has an ancient culture, which is based on religion and the royal tradition, the agricultural bias of the economy and favorable climatic conditions. In other words, Thailand's culture was formed under the influence of various factors, and today the national traditions and peculiarities of the Kingdom - not less important reason for the tourist boom, than the sea and gorgeous beaches.
King and Buddha
For Thais equally important all that is connected withthe traditions of the royal dynasty, and Buddhist teachings. The royal family in Thailand as honored and respected that residents do not always make a distinction between the laws of the State and religious precepts, in the sense that both are revered holy.
King is the patron saint of all religiouscurrents, it does not deal with political issues, and only has the right to intervene in any situation that threatens to turn into a bloodbath. Kings in Thailand have a particular level of culture, and have the best education. They make a great contribution to the formation of cultural practices. For example, King Rama II translated the Indian epic "Ramayana" in the language of Siam Thai and now there is a book "Ramakien".
Buddhism - the dominant religion in the kingdom andnamely at Buddhist monasteries have always been focused the whole cultural life. Here flourished crafts, children learn to read and write, and the monasteries themselves often become objects of unique Thai architecture. We can say that Thai culture originated in monasteries and temples. Distributed in the UK and sculpture, which richly decorated with religious buildings.
Temples as a mirror of culture
Architectural structures Thailand - alsoan integral part of the cultural heritage of the country. A particularly striking example of such construction in the capital. This complex of the Royal Grand Palace, where there are buildings in addition to the private apartments of the ruling emperor and his family are allowed to visit tourists.
Temple of the Emerald Buddha and Temple of the Reclining Buddha - the real gems of Thai architecture, where you can see relics of the Buddhist religion.
Land of smiles
Culture of Thailand - that the nature of its inhabitants,which can be called a hospitable, welcoming and positive people. They endured all the hardships and difficulties, and their faces are decorated with a smile regardless of the situation and mood.
Photo