North Thailand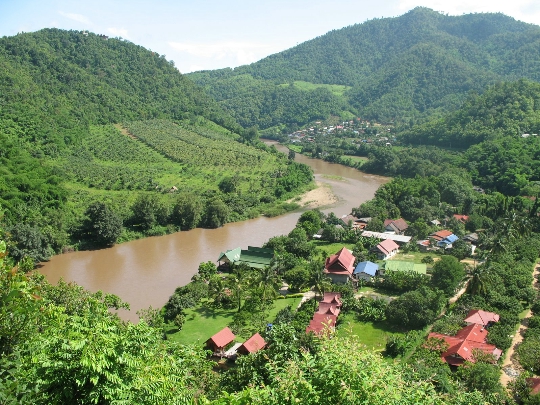 Northern Thailand is surrounded by highmountains. The climate is cooler than in other parts of the country, so in the winter months there are many tourists. North Thailand is considered one of the most beautiful places in the country. Previously, its territory was partially unavailable due to the civil wars that took place in neighboring Myanmar, riots and other problems. Today no obstacles tourists do not meet, but when traveling it is recommended to be careful, resting in the provinces of Mae Hong Son and so close to the Myanmar border. The local population uses a special Thai dialect and understands the usual Thai. The tribes living in the mountains, speak their own languages. The northern part of the country has several borders with Laos and Myanmar, so the neighboring country can enter at any time.
The climatic conditions in northern Thailand
The dry winter season lasts from November toJanuary. Day at this time warm and the nights cool. From February to April last hot and dry season. Day very hot during this period. The rainy season begins in Northern Thailand in July. The air temperature is slightly reduced due to moisture and cloud cover.
Main sights
Natural advantages of Northern Thailand -. Green hills, forests, mountains, etc. There are many cultural attractions: historic sites and temples. Attractive opportunity to the region - hiking and walking tours for every taste. Tourists are offered both day trips and longer journey. Thais include a list of services elephant rides, rafting, and others. One of the most interesting sights are the mountain tribes. In the north of Thailand are seven main tribal groups, who migrated from Tibet, China and Myanmar in the highlands.
Popular Cities
The starting point for many travelersis Chiang Mai. From there they move to the northern borders of the country. The main reason for the attractiveness of the area is stunning rural landscapes and villages of hill tribes. The recommended walking tours between November and March, during the cold season. Heading to the north of Chiang Mai, the tourists coming to Chiang mountain range, where the caves are spectacular. Chiang Mai is one of the main settlements in the north of the state. It is the second largest city of Thailand, which is of great importance for the social, political, religious and cultural spheres. From Bangkok, it is separated 700 km. By plane it is possible to overcome the distance in 1 hour, by bus - about 10 hours. The town is surrounded by a defensive moat and thick walls. Inside, there are many ancient buildings and churches of interest to travelers.
The main tourist center in northern Thailand - the cityPai, with a population of about 3 thousand people. The city has a large number of Buddhist temples. From entertainment in Pai available hiking, climbing, caving, elephant trekking, cycling, rafting, visiting temples, waterfalls and local tribes.
Photo