Tours Krabi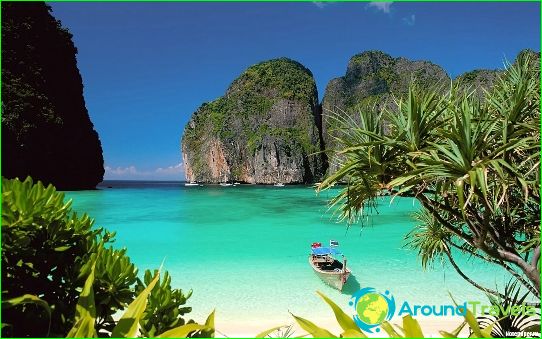 At the mouth of the river of the same name on the shore of the AndamanSea stretches Krabi - one of the most popular Thai resorts. This love to rest these aesthetes for whom the surrounding views - on the first place in the list required for full relaxation options. Go on a tour to Krabi, then not only enjoy the pristine beaches and emerald green waves, but also feel a little hermit, exchanged a while the noise of civilization on the calming lapping of the waves and magnificent starry night sky.
Select season
The climate of Krabi Province and the proximity of the sea affectWeather in the resort. There are no Europeans in the usual sense of the four seasons, and has a humid, hot and cool seasons, each with its own advantages and disadvantages. Choosing a time to travel to Krabi, should take into account the weather and possible surprises.
The rains begin in May and has consistentlygo to October inclusive. However, the sun at this time of the year is quite enough for a comfortable stay, especially since tropical storms prefer to disturb the peace of this place mostly at night. The best time to travel to Krabi during the wet season - August, but because of the undoubted advantages rest in the rainy months - significant discounts on accommodation in hotels.
Hotter only resort in February and April, and the most favorable time for the tour begins in November and lasts until the Christmas holidays.
In the footsteps of Leonardo
The idol of several generations of girls LeonardoDiCaprio starred in these places in the cult film "The Beach", Krabi and landscapes suffer every traveler in a wonderful atmosphere of relaxation and luxury, carefully demonstrated by director of the film. To go on a trip to Phi Phi Island and Hong, visit Bokkhorani National Park, or to think about the eternal in the Tiger cave monastery, take a refreshing dip in the waterfall Hua Said or to arrange a sea safari - all completely available during the tour to Krabi and makes the rest of the diverse and fascinating .
Exotics can be enjoyed in the local markets orcoastal cafe and buy a souvenir hand-painted fabrics and products made of them, a huge number of proposed trade center of the resort. By the way, the local department store with a trendy name "Vogue" - place start Mini Bus, which carry about suffering sights tourists on excursions to local attractions.
Photo