Rest in Thailand in August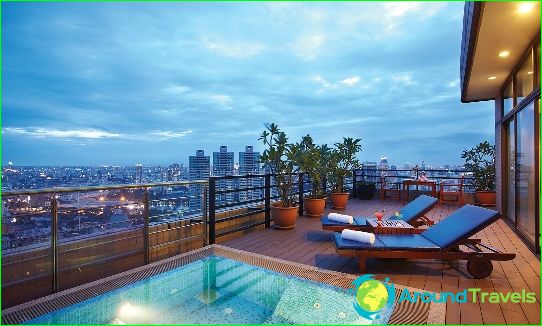 This small country, located in thesouth-east Asia, it is very difficult to compete in the tourism business. Here in the presence of an infinite number of places to stay, accommodation options, guided tours, educational and recreational activities.
The tourist who dreams to combine vacation and holidays inThailand in August, will not be disappointed. For him the main thing - do not get lost in the choice of the resort. It is necessary to determine the main purpose of travel (leisure, entertainment, recreation, enlightenment) and in accordance with them to pick up the tour.
Weather on resorts in Thailand in August
The rainy season is gaining momentum, but not daring touristscan scare heavenly moisture. Especially in Thailand, all instantly passes so quickly dries that vacationer does not have time to see whether there was rain or really only seemed.
Air mass per day have time to warm up to a temperature of + 30 ºC, per night bar drops slightly, with the onset of the morning to start climbing again.
All of the beach!
Tour operators say that the summer months, although related to the low season, still quite comfortable for the rest. And the best seats are on the coast of the Gulf of Thailand.
At first sight the tourist notesclassical picture of paradise: white sand, on which the oncoming waves of blue color, languid palm trees lean to the water to hear the gentle whisper of the sea waves.
The pearl of the Gulf is called the island of Samui, whereall possibilities for a luxury holiday with villas and secluded coves. At the same time, there is room for democratic and inexpensive pastime.
In addition to a private beach bliss and meditation hereopportunities for diving and snorkeling, hiking trails to stave off hunger and cultural restaurants with stunning cuisine around the world. And the number of tourists is much less than in the high season, it can not but rejoice.
Happy Birthday, Queen!
Mid-August explodes with noise and holidaysfireworks, processions and dance marathons. Birthday celebrates Her Majesty the Queen of Thailand, the locals can not quietly celebrate such an important event for the country, engaging in a cycle of celebrations and curious tourists.
Pleasant moment - in honor of the Queen's birthdaysmall gifts and souvenirs get all of the fair half of the globe. One small caveat - souvenirs decorated with jasmine flower, a symbol of the Queen.
Thailand (recreation and tourism)
Photos vacation in Thailand