Rest in Thailand in June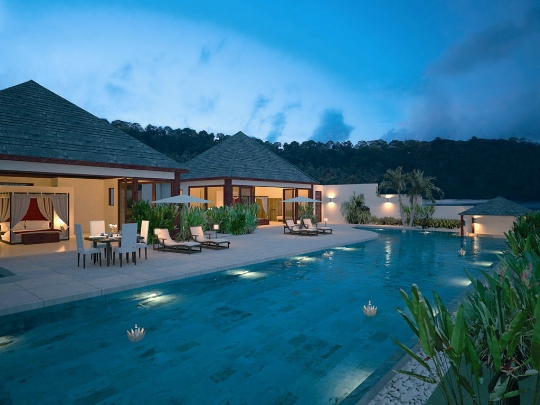 June in Thailand refers to the low season. So, what the weather conditions are set for this month?
The amount of rainfall increases, but the rains fallin the evenings and nights. Due to the fact that the monsoons are beginning to enter into legal rights, you need to take care of protection from the rain, namely polyethylene cape, umbrella. In the long rains count is not necessary. It should be noted that the largest amount of precipitation falls in Phuket and Krabi, where it may be 17 - 18 rainy days. Pattaya can be 11 rainy days in Bangkok - 6 days.
During the day the air warms up to + 30C, and in the evening cooled to + 24 ... 25C in Phuket, Krabi. In Bangkok and Pattaya night temperature ranges from + 26 ... 32C.
Holidays and festivals in Thailand in June
You want to enjoy cultural leisure time? Rest in Thailand in June will be really interesting for you! So, what holidays and festivals can be expected?
The second number in Lampang taken holdPineapple Festival, because it is the fruit of the Thai people appreciate. The duration of the fair for three days. At this time you can witness performances of musical collectives, visit the workshops and exhibitions, see the beauty contest.
As of June accounted Festival Phi Ta Khon, whichheld in Loei province. It is important to bear in mind that this festival that promotes spiritual enlightenment of people, sometimes postponed to July. The fact that a specific date is set spirits with whom contact mediums. The basis of the festival is a colorful procession, for which people tend to dress in unusual costumes.
As of June may have to Visakha Puja. The date of this celebration is passing, but Visakha Puja is always celebrated on the 15th day of the fourth lunar month. In the morning, people spend time near the temples and preached, and in the evening decided to hold a candle ceremony around the city's main chapel.
June 26 in Rayong decided to celebrate Memorial Day poet Sunthon Phu. The main events take place in the same park, which is located in Klaeng District.
Prices for a trip to Thailand in June
Due to the fact that low June representsseason in Thailand, there is a decrease of prices for accommodation, air carriers and lower fares. Achieve savings and enjoy a pleasant journey!
Thailand (recreation and tourism)
Photos vacation in Thailand