Tunisia Beaches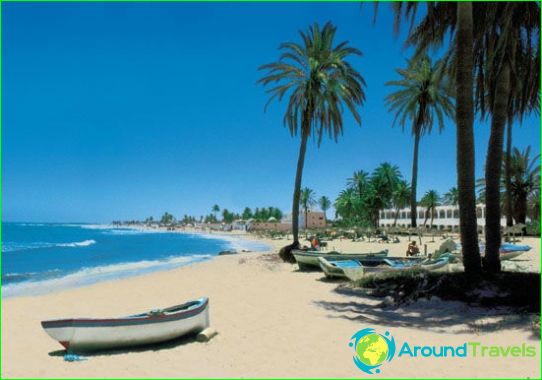 Between Libya and Algeria, on the coast of the NorthAfrica was a place for the exotic country, Tunisia. This place has become a haven for all those who like to relax by the sea. Tunisian Coast line length of about 1,300 km - is soft sand, the sea azure and gentle sun.
All the beaches in Tunisia are free to guests, isdue to the municipal identity. If the beach belongs to the hotel, then it is usually mounted umbrellas and deck chairs for guests, sometimes it may require payment, usually in hotels with three stars.
The most popular beaches in Tunisia
Djerba Island - the southern resort of the country. Djerba famous olive-and palm groves of the purest water. Despite the fact that Djerba is an island, it can be reached by road. Hotels are only a category 4 or 5 stars, but they are quite small.
Mahdia - considered one of the young Tunisian resort, which is famous for amazing sand. Many travel agencies recommend it for travelers with children this resort.
Monastir as well as its spa area, which bears the name of Skanes - this is the best place for relaxation, quiet and relaxing holiday.
Sousse Resort will satisfy requestsnoisy fans and fun-filled holiday, offering a great abundance of discos and nightclubs. Its main competitor is the resort of Port El Kantaoui, Sousse is constantly striving to eclipse reckless in terms of resort life. Local pubs, casinos and discos will give one hundred points handicap to any eminent institution of the city.
Hammamet is likely to appeal to fans of thalassotherapy, you can find a variety of different health centers.
In Tabarka will find everything you need, lovers of diving - and the most beautiful coral reefs, and the mighty rocks, and equipment rental.
Near the town of Tunisia are twopicturesque beach: Sidi Bou Said and Carthage. They are popular with tourists who prefer an active pastime, not lying on a sun lounger. This place is the epicenter of creativity of musicians and artists, they come here from different parts of the world.
Photos beaches of Tunisia